An Affordable Solution for Creating Additional Living Space within a Home
By Mark J. Donovan







Are you looking for more living space and buying a larger home, or putting on an exterior home addition is out of the question? A possible alternative to moving to a larger home could be your underutilized unfinished basement.

A basement conversion is a great way to add more living space to your home. The square foot costs associated with finishing a basement are typically lower than building a home addition or moving to a new larger home.
In addition, a basement remodeling project affords itself to the do it yourself homeowner and can be converted at a speed that is consistent with a homeowners budget.
In addition, a basement remodeling project can easily be isolated from the rest of the home's living space during the construction phase, by simply closing a basement door.
A basement conversion project usually enables several new rooms to be created within the home.




Typical finished spaces include recreation rooms, exercise rooms, office space, bedrooms, bars, and even bathrooms. 

To determine if your unfinished basement is appropriate for a basement conversion there are three main items that you need to look at.

First, you need to confirm with your local building inspector that there is sufficient headroom in the basement to create finished basement living spaces. Typically you will need at least 7 feet of headroom.

 
Second, it is important that the basement has easy access, and has a couple of methods of egress, e.g. via a staircase, windows and/or walkout doorways.
Lastly, before embarking on converting a basement into a finished living space it is important to make sure that the basement is free from moisture problems. You may want to hire a professional to inspect and help deal with any basement water or moisture problems prior to beginning construction.
If you're unfinished basement meets these three criteria then a basement conversion maybe just you're ticket for creating new, affordable and comfortable living space within your home.
For more help on Basement Additions, see HomeAdditionPlus.com's Basement Remodeling Bid sheet. The Basement Remodeling Bid Sheet will help ensure that your hire the right contractor so that your basement remodeling project is done correctly and you get the project finished on time and budget.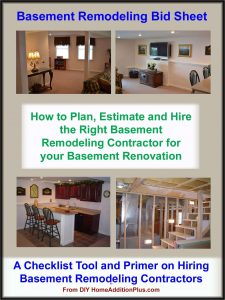 Related Information on How to Convert a Basement into Finished Living Space
---
Get Free Basement Remodeling Price Quotes with No Obligation!
Fill out our 3-5 minute quick and easy form, and receive a free price quote on basement remodeling from one of our prescreened and licensed basement remodeling contractors. This process is free and there is no obligation to continue once you receive your basement remodeling price estimate.