Fill Paver Walkway or Patio Joints with Polymeric Jointing Sand
By Mark J. Donovan


In this video Mark Donovan of HomeAdditionPlus.com discusses using Polymeric Jointing Sand for filling in paver joints on a walkway or patio.
When I've previously installed brick or paver walkways or patios I would fill the joints with clean, fine sand or stone dust. Though both materials worked reasonably well at strengthening the walkway or patio and mitigating weed growth, they inevitably failed over time.

In my most recent paver walkway installation I decided to try a product that I was not previously familiar with for filling joints in between the pavers. The product is called Polymeric Jointing Sand.
Polymeric Jointing Sand comes in 50lbs bags and is made from a clean fine sand and a polymer binder. The product can fill cracks up to 2 inches in width.
To use Polymeric Jointing Sand all you have to do is sweep it into the paver joints and then lightly spray water over it two or three times over an hour period. The water activates the polymer binder and causes the Polymeric Jointing Sand to harden up.
The manufacturer recommends waiting 24 hours before walking on the pavers to allow the Polymeric Jointing Sand to harden up fully.

Once dry, you'll notice that the joints are firmly locked into place and the sand is as rigid as cement. As a result, you should notice that your paver or brick walkway or patio should hold up much better over time, and have less joint weed issues.
The only caution I can provide when using this product is to really sweep and clean the pavers clean prior to watering in the Polymeric Jointing Sand.
Otherwise, you'll have a slight polymer /sand film hardened onto the surface of the pavers, which can take away from the pavers' original color and beauty.
---
Dress Up Your Home's Exterior with an Arbor – If you've always wondered what to do about a side door entrance to your house or garage to make it more appealing, or just wanted to simply spice up the backyard, building an arbor may be your answer. The "How to Build an Arbor Ebook" provides detailed, step-by-step instructions and pictures on how to build an entrance-way arbor for your home. Order and Immediately Download today!. 100% Money-Back Guarantee if you are not satisfied.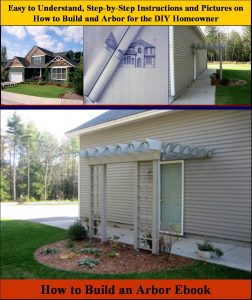 Planning to have a Brick or Paver Walkway Installed by a Landscaping Contractor but not sure what questions to ask to ensure you hire the right one? See HomeAdditionPlus.com's Brick and Paver Walkway Bid Sheet. The Brick and Paver Walkway Bid Sheet will help ensure that your walkway project goes smoothly and you get the finished walkway you are looking for.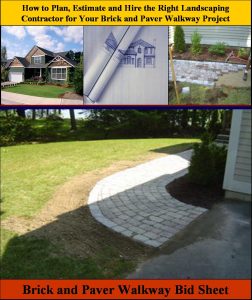 ---
Additional Landscaping Resources from Amazon.com
---
Free Home Addition Price Quotes with No Obligation!
Fill out our 3-5 minute quick and easy form, and receive a free price quote on a house addition from one of our prescreened and licensed home addition contractors. This process is free and there is no obligation to continue once you receive your house addition price estimate.