Installing Bluestone Gravel near a Paver Walkway and Below a Roof Eave
By Mark J. Donovan







In this video Mark Donovan of HomeAdditionPlus.com shows how to lay bluestone gravel near a paver walkway.

Recently I completed the installation of a paver walkway that runs parallel to my garage.

Because the paver walkway was running parallel to the garage's roof eave I decided to space the edge of the paver walkway a couple of feet away from the garage foundation. 
The reason for this was because I was concerned of rain water coming down off the garage roof and splashing on the cement pavers.
So, to do something both functionally and aesthetically attractive between the garage foundation and the edge of the paver walkway I decided to lay bluestone gravel.
Because the bluestone gravel is ½ inch stone and is angular, I figured that water coming down off the garage roof edge would be more randomly diffused and thus less water would end up bouncing off the stone and up onto the house siding clapboards.

The bluestone gravel also had a color that complemented the color of the concrete paver walkway.

To install the bluestone gravel I first dug out below grade, relative to the paver walkway, by a couple of inches.
Next, I placed a sheet of landscaping fabric over the surface area to prevent, or at least curb, weed growth.
I then poured bluestone gravel about 1 to 2 inches thick along the length of the paver walkway, and between the garage foundation wall.
Lastly, I raked the bluestone gravel into place using a metal rake.

And that's all it took to complete the installation of bluestone gravel. Note that I used about a half a yard of bluestone to cover an area of approximately 26 x 2 square feet. The bluestone gravel cost me $80 per cubic yard.
For a finishing touch I plan to place several circular or rectangular one inch thick concrete pads spaced evenly along the length of the bluestone area. I will then put planters filled with flowering plants on each pad.
---
Dress Up Your Home's Exterior with an Arbor – If you've always wondered what to do about a side door entrance to your house or garage to make it more appealing, or just wanted to simply spice up the backyard, building an arbor may be your answer. The "How to Build an Arbor Ebook" provides detailed, step-by-step instructions and pictures on how to build an entrance-way arbor for your home. Order and Immediately Download today!. 100% Money-Back Guarantee if you are not satisfied.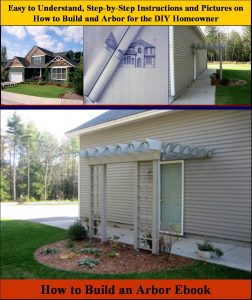 Planning to have a Brick or Paver Walkway Installed by a Landscaping Contractor but not sure what questions to ask to ensure you hire the right one? See HomeAdditionPlus.com's Brick and Paver Walkway Bid Sheet. The Brick and Paver Walkway Bid Sheet will help ensure that your walkway project goes smoothly and you get the finished walkway you are looking for.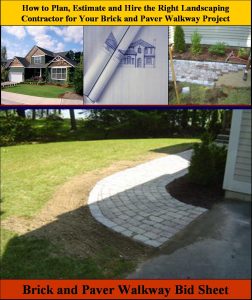 Other Related Articles on Installing Paver Walkways
---
Additional Landscaping Resources from Amazon.com
---
Free Home Addition Price Quotes with No Obligation!
Fill out our 3-5 minute quick and easy form, and receive a free price quote on a house addition from one of our prescreened and licensed home addition contractors. This process is free and there is no obligation to continue once you receive your house addition price estimate.