How to Clean Ceramic Tile Showers and Maintain Their Luxuriousness and Charm
By Mark J. Donovan







Cleaning ceramic tile showers should be done regularly. If you have a ceramic tile shower and want to keep it looking like new, then you need to clean it after every use, plain and simple.

Cleaning ceramic tile showers is as easy as wiping it down with a towel or squeegee after every use. It is important to remember to wipe down both the walls and floor.

Water is the main culprit in turning a beautiful ceramic tile shower into an eye sore. 
Water breeds mold and mildew and the grout lines are the most susceptible to it.
Cleaning Ceramic Tile Showers prevents Mold and Mildew

If ceramic tile showers are not cleaned and wiped dry after every use, mold and mildew will eventually show up on the grout lines turning them dark.

Once imbedded into the grout, mold and mildew becomes very difficult to remove.

In addition to mold and mildew growth, minerals in the water can also pit the ceramic tiles so that they lose their luster.





Again, the way to prevent this type of damage is to clean and wipe dry your ceramic tile shower after every use.
How to Clean Ceramic Tile Showers with Mold and Mildew
If you have not been cleaning your ceramic tile shower regularly and your shower is showing the ill effects of mold and mildew, as well as pitting, you can try various tile and grout cleaners.
However, do not use tile and grout cleaners that contain acids, and this includes using homemade vinegar solutions. 

The acid cleaners will not only eat away the mold and mildew, but also some of the grout. In addition, they can also damage the surface area of some types of ceramic tile glazes.

Instead, use an alkaline based tile and grout cleaner. Make sure to read the instructions carefully on the cleaner before using it, and always wear proper eye and skin protection, including gloves and long sleeve shirts and pants.



After cleaning ceramic tile showers with an alkaline cleaner, it is always best to let them fully dry out and then seal them with a tile and grout sealer. Ceramic tile and grout sealer should be applied at least once every couple of years.
---
For information on installing a shower pan membrane liner for a ceramic tile shower, see the Shower Pan Membrane Liner Installation Ebook from HomeAdditionPlus.com.  The Shower Pan Membrane Liner EBook will quickly teach you the step-by-step process for installing the shower pan membrane liner correctly. It includes instructions on framing the shower stall, pouring the pre-slope and shower base mortar, and installing the shower pan membrane liner.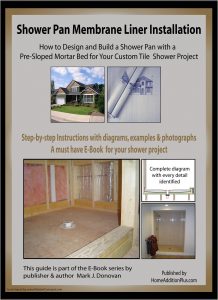 See HomeAdditionPlus.com's Ceramic Tile Calculator
See my "How to Tile a Custom Ceramic Tile Shower" Ebook to learn how to tile your own shower:  For a detailed set of instructions on tiling a shower floor and walls, including pictures for every step in the process, see my "How to Tile Custom Ceramic Tile Shower Ebook".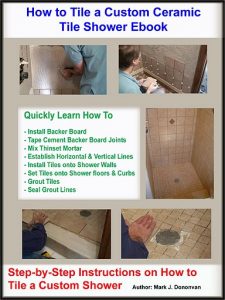 Related Information
---
Additional Resources on How to Clean Ceramic Tile Showers from Amazon.com
---
Get Free Bathroom Remodeling Price Quotes with No Obligation!
Fill out our 3-5 minute quick and easy form, and receive a free price quote on a bathroom remodeling project from one of our pre-screened and licensed bathroom remodeling contractors. This process is free and there is no obligation to continue once you receive your bathroom addition price estimate.