Detailed Video Instructions on Grouting Tile in a Custom Ceramic Tile Shower
By Mark J. Donovan







In this video, Mark Donovan of HomeAdditionPlus shows how to grout tile in a custom ceramic tiled shower.

Before Grouting Tile Showers

It is important to make sure that any excess thinset mortar has been removed from in-between the ceramic tiles prior to grouting the tile. Use a screwdriver to help in this process.

Grouting Tile Shower

Only mix up enough grout that can be applied in a 30 minute time period. 
Otherwise the grout may begin to set up too much prior to applying it to the tile.
In addition, it is important to wipe down grouted tile surfaces after 15 to 30 minutes. Use a damp sponge to wipe down grouted tiles.

Wipe the ceramic tile down with a damp sponge 2 to 3 additional times every 30 minutes or so until the tile shines. Make sure to use a clean bucket of water and to rinse the sponge after every 2 to 3 strokes.

When grouting tile make sure to use a grout float. Sweep the grout float over the ceramic tile at a 45o angle to the tile seams. 



This will help to work the grout into the tile seams.
---
See my "Shower Pan Installation" Ebook to learn how to install a mortar shower pan:  For a detailed set of instructions on building a shower pan, including pictures and a detailed cross-sectional view of the make-up of a shower pan, see my "Shower Pan Membrane Liner Ebook".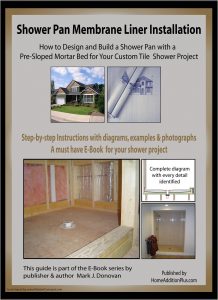 See my "How to Tile a Custom Ceramic Tile Shower" Ebook to learn how to tile your own shower:  For a detailed set of instructions on tiling a shower floor and walls, including pictures for every step in the process, see my "How to Tile Custom Ceramic Tile Shower Ebook".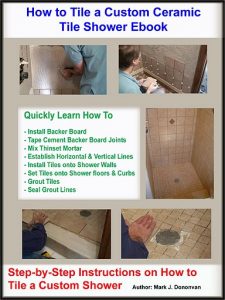 Related Information on Grouting Tile and Grouting Tile Showers
---
Additional Ceramic Tile Resources from Amazon.com
---
Get Free Basement Remodeling Price Quotes with No Obligation!
Fill out our 3-5 minute quick and easy form, and receive a free price quote on basement remodeling from one of our prescreened and licensed basement remodeling contractors. This process is free and there is no obligation to continue once you receive your basement remodeling price estimate.