Instructions for Drilling Holes in Ceramic Tile
By Mark J. Donovan







Drilling holes in ceramic tile is frequently required if you need to install a towel rack or toilet paper holder in a bathroom that has ceramic wall tile already installed.

Drilling holes in ceramic tile can be performed by the do it yourself homeowner with the right tools and a little up front knowledge.

Drilling Holes in Ceramic Tiles – Use the Right Drill Bit
Drilling holes in ceramic tile, such as glazed ceramic tile, requires the use of an adjustable speed drill and either a carbide tipped drill bit or diamond tipped drill bit.
The carbide tip drill bit works best with glazed or unglazed ceramic tile. The diamond tip drill bit is ideal for porcelain tile, as porcelain tile is harder and more difficult to drill through.
To drill a clean hole in the ceramic tile, put a 2"x2" piece of masking tape over the area where you want to drill. The masking tape will prevent the drill bit from drifting or walking off the desired hole location.
Next, using a pen or pencil mark the spot on the masking tape where you want to drill the hole in the ceramic tile.
Drilling Holes in Ceramic Tiles- Marking Location

Using a center punch or awl, and hammer lightly tap the marked drill location to make a minor chip on the surface of the ceramic tile. Again, this will help to ensure the drill bit will not wander.

Drilling Holes in Ceramic Tiles- Drilling Process

Apply light to moderate pressure on the drill when drilling the hole in the ceramic tile. Also, operate the drill at a low to moderate speed.



After penetrating the tile with the drill bit, continue on through the backerboard, or sheetrock.
Drilling Holes in Ceramic Tile – Installing Plastic Anchor after Drilling
Once the hole has been drilled, use a hammer and gently tap in a plastic anchor.
With the anchor in place, attach the towel rack or toilet paper holder brackets to the plastic anchor using the screws provided.
---
For information on installing a shower pan membrane liner for a ceramic tile shower, see the Shower Pan Membrane Liner Installation Ebook from HomeAdditionPlus.com.  The Shower Pan Membrane Liner EBook will quickly teach you the step-by-step process for installing the shower pan membrane liner correctly. It includes instructions on framing the shower stall, pouring the pre-slope and shower base mortar, and installing the shower pan membrane liner.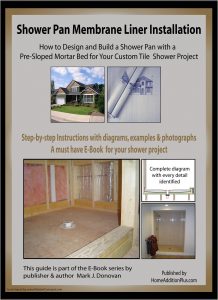 See HomeAdditionPlus.com's Ceramic Tile Calculator
See my "How to Tile a Custom Ceramic Tile Shower" Ebook to learn how to tile your own shower:  For a detailed set of instructions on tiling a shower floor and walls, including pictures for every step in the process, see my "How to Tile Custom Ceramic Tile Shower Ebook".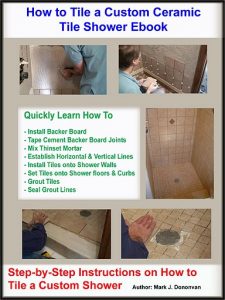 Related Information
---
Additional Ceramic Tile Resources from Amazon.com
---
Get Free Bathroom Remodeling Price Quotes with No Obligation!
Fill out our 3-5 minute quick and easy form, and receive a free price quote on a bathroom remodeling project from one of our pre-screened and licensed bathroom remodeling contractors. This process is free and there is no obligation to continue once you receive your bathroom addition price estimate.