The Pros and Cons of Caulking and Grouting Shower Corners
By Mark J. Donovan







Over the years I have installed a number of ceramic tile showers with shower pan membrane liners. I've also seen many more custom ceramic tiled showers. In some cases the shower corners were grouted and in other cases they were caulked.

Grout or Caulk Tile Corners?

Over the years I've come to the conclusion to grout the shower corners instead of caulking them. The old adage has been that grout the field and caulk the corners, or caulk where one plane meets another.
The rationale for this old adage comes from the fact that as the house settles and/or if the shower walls and floor shift over time the caulk will flex and the seams remain intact. If on the other hand grout is used, the grout will crack and crumble.
So Why use Grout vs Caulk in Shower Corners?
From personal experience, however, when the shower frame and shower pan are installed correctly there is very little movement of the planes (shower walls / floor). Thus, I prefer to grout the shower corners rather than caulk them.
The reason for this is that when caulk is used, inevitably mold and mildew become problems in all the shower corners, and consequently you end up with black mold growth.

Also, it is said that you can find caulk that matches the grout color, but I've yet to personally get the exact caulk color that matches the grout.

Lastly, to remove the mold and mildew constant maintenance is required and periodic re-caulking is necessary.

Get this immediately downloadable eBook on how to install a mortar shower Pan.
In my opinion grouting shower corners is preferable. The grouted shower corners are guaranteed to look exactly the same as the field of grout.
Also, it's one less step in the process of tiling a shower. I've also found that there is a lot less mold issues to contend with when using grout, and a grout sealer.

Finally, there is no concern for peeling caulk, an issue that often plagues a ceramic tiled shower with caulked corners. If in the event cracks do form in the shower corners you can use a Dremel tool to remove the old grout and then apply new grout.

Watch this video to learn how to grout a tile shower.
I highly recommend buying a little extra grout when you grout your ceramic tile shower so that you can use it if in the event you do end up with cracking. If cracks do end up forming in the grouted shower corners after less than a year's period, then resort to the caulking method.
---
For information on installing a shower pan membrane liner for a ceramic tile shower, see the Shower Pan Membrane Liner Installation Ebook from HomeAdditionPlus.com.  The Shower Pan Membrane Liner EBook will quickly teach you the step-by-step process for installing the shower pan membrane liner correctly. It includes instructions on framing the shower stall, pouring the pre-slope and shower base mortar, and installing the shower pan membrane liner.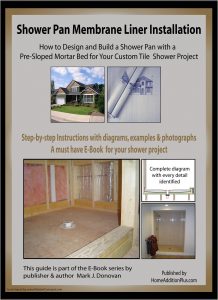 See HomeAdditionPlus.com's Ceramic Tile Calculator
See my "How to Tile a Custom Ceramic Tile Shower" Ebook to learn how to tile your own shower:  For a detailed set of instructions on tiling a shower floor and walls, including pictures for every step in the process, see my "How to Tile Custom Ceramic Tile Shower Ebook".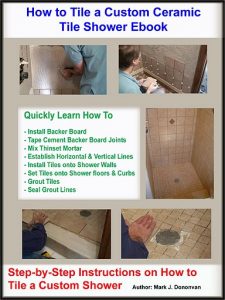 Related Information on How to Grout Shower Tile Corners
---
Additional Ceramic Tile Resources from Amazon.com
---
Get Free Bathroom Remodeling Price Quotes with No Obligation!
Fill out our 3-5 minute quick and easy form, and receive a free price quote on a bathroom remodeling project from one of our pre-screened and licensed bathroom remodeling contractors. This process is free and there is no obligation to continue once you receive your bathroom addition price estimate.