Backer Board Tape Must be used on Joints and in Corners before Tiling
By Mark J. Donovan







When

installing ceramic tile

over cement backer board it is important to first apply tile backer board tape over the joint and corner seams, followed by a skim coat layer of

thinset mortar

. Tile backer board tape helps to reinforce the joint seams of cement backer board.

Do not use drywall fiberglass mesh tape and joint compound to seal cement backer board seams. It will not hold up. Over time it will breakdown and fail. Backer board tape should always be used.
Tile backer board tape, on the other hand, is specifically designed for cement backer board applications and it is engineered to resist cracking. It has an anti-corrosive polymer coating and is alkaline resistant. Portland cement mortars are high in alkaline and will quickly breakdown standard drywall fiberglass mesh tape.
Tile backer board tape has a sticky surface. To apply tile backer board tape simply cut it to length, and press the sticky side firmly up against the cement backer board and centered over the seams. Use 2" wide tile backer board tape for interior applications and 4" wide backer tape for exterior applications.
Next, apply a skim coat layer of thinset mortar over the tile backer board tape. When applying the thinset mortar over the backer board tape you don't need to be extremely neat, however it is important to not leave any ridges or humps.
If you do, make sure to scrape them down after the mortar has cured or you will have a difficult time installing the ceramic tiles. The tiles have a tenancy to not sit flat and rock over humps, so make sure you remove any high spots in the thinset mortar before starting your tiling work.
---
For information on installing a shower pan membrane liner for a ceramic tile shower, see the Shower Pan Membrane Liner Installation Ebook from HomeAdditionPlus.com.  The Shower Pan Membrane Liner EBook will quickly teach you the step-by-step process for installing the shower pan membrane liner correctly. It includes instructions on framing the shower stall, pouring the pre-slope and shower base mortar, and installing the shower pan membrane liner.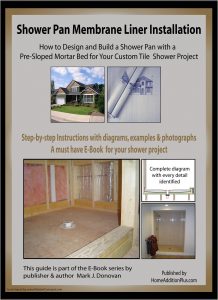 See HomeAdditionPlus.com's Ceramic Tile Calculator
See my "How to Tile a Custom Ceramic Tile Shower" Ebook to learn how to tile your own shower:  For a detailed set of instructions on tiling a shower floor and walls, including pictures for every step in the process, see my "How to Tile Custom Ceramic Tile Shower Ebook".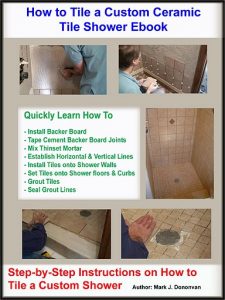 Related Information
---
Additional Ceramic Tile Resources from Amazon.com
---
Get Free Bathroom Remodeling Price Quotes with No Obligation!
Fill out our 3-5 minute quick and easy form, and receive a free price quote on a bathroom remodeling project from one of our pre-screened and licensed bathroom remodeling contractors. This process is free and there is no obligation to continue once you receive your bathroom addition price estimate.