How to Find and Fix Roof Leaks Temporarily and Permanently
By Mark J. Donovan







There are two stages to fixing a roof leak. First, there's the triage stage of stemming the risk of additional water flow into the home after the roof leak has first been observed, usually after a heavy rain storm.

Second, there's the permanent repair after either making the full repair yourself or calling in a professional roofing contractor.

When you notice a roof leak during a rain storm, your only immediate solution is to simply pull out the buckets and strategically locate them to catch as much of the leakage as possible.
When possible try to place the buckets in the attic to catch the rain at its first point of entry. Do not attempt to go up on your home's roof during a storm.
For the triage stage of fixing a roof leak, this should happen only after the weather has improved and the roof has fully dried.
Walking up on a wet roof can be extremely dangerous. Roofs can be very slippery when they're wet. Also, if there is any roof framing/sheathing rot associated with the leak, which could lead to you falling through the roof, you'll have a better chance of detecting it when the roof is dry and before you walk on it.
When determining where the roof leak is occurring, keep in mind that it probably is happening higher up on the roof than where you see evidence on your drywall ceiling or wall.

Usually water penetrates in via a nail or damaged shingle, and then works its way down underneath the shingles until it finds a point where it can enter a seam in the roof sheathing. 
So one of the best places to start to find out where the roof leak is occurring is in your attic. Look for wet spots on the back side of the roof sheathing from the attic. Also look for water on roof nails that penetrate through the roof sheathing.
While inspecting the roof for the roof leak entrance, start at the top of the roof and work your way downwards. However, before walking on the roof examine it carefully from the ladder to make sure that the roof looks stable and safe to walk on. Also, when walking on the roof pay particular attention for any soft or spongy spots. If you notice either of these conditions come down off the roof and call a roofing contractor. Often the roof leak occurs at the ridge vent where possibly a ridge vent shingle cap has blown off.
Also the ridge vent itself could have been partially wind damaged. As you work your way down the roof, look for damaged and missing shingles, or old shingles that might be exhibiting cracking, curling, cupping or fishmouthing. Any of these shingle damage signs are possible candidate areas for roof leaks.

Once you've located the source of the leak, you have a couple of methods for temporarily fixing a roof leak. If it is simply a popped roofing nail, hammer it down and apply a dab of roofing sealer on top of it. 
If you observe an area of the roof that has cracking, curling, cupping or fishmouthing then cover that section of the roof with a nylon tarp until you can permanently fix the roof. If you see you've lost a shingle or two, then find a couple of replacement shingles and simply slide them up underneath the shingles just above the missing shingle(s). This will at least temporarily fix the roof leak until you can have it permanently repaired.
To fix a roof leak permanently, in some cases roofing sealant may be all that is necessary. However, if the roof is damaged in any significant way or shows significant wear, then the roof should be completely re-shingled.
Finally, keep in mind that roof leaks can lead to mold and mildew damage which is very difficult and expensive to get rid of. It's also a major health risk to the home and its occupants. Persistent small roof leaks can also lead to structural damage within the home. So don't put off fixing a roof leak.
---
For more help on Shingling Your Home's Roof, see HomeAdditionPlus.com's Asphalt Shingle Roofing Bid Sheet. The Asphalt Shingle Roofing Bid Sheet will help to ensure that your roof won't end up with a blue tarp over it and a dumpster sitting in your yard for weeks as you wait for the roofing contractor to come back and finish roofing your home.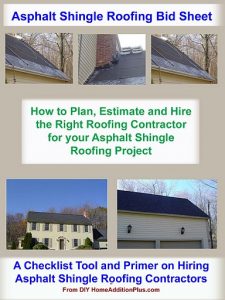 Asphalt Shingle Roofing Cost Estimator
---
Related Roofing Information
---
Additional Roofing Resources from Amazon.com
---
Roofing Price Quotes For FREE, No Obligation!
Fill out our 3-5 minute quick and easy form, and receive a free price quote on roofing from one of our prescreened and licensed roofing contractors. This process is free and there is no obligation to continue once you receive your roofing price estimate.