The Benefits of Aerial Roof Inspections and What is Cost for a Drone Roof Inspection
By Mark J. Donovan







Topics Discussed

Why roof inspections are so important?

Why Drone roof inspections are a great alternative to traditional roof inspection methods?

How Much does a drone roof inspection cost?

Importance of Conduction Roof Inspections

One of the most critical items in a building is its roof. 
If the roof leaks the entire building is at risk of damage. Damage in terms of water damage, mold and mildew growth, and wood rot. Consequently, your home's roof should be inspected a couple of times a year.
Historically inspecting a roof meant pulling out ladders and climbing up on the roof, which takes a lot of time and puts the homeowner or roof inspector at risk of falling from the roof.
Today, there is new technology on the market that dramatically shortens roof inspection times and eliminates the need for the homeowner to have to climb up onto the roof. What's the new technology? Drones. Drone roof inspections are becoming increasingly more common as drone prices fall, and their ease-of-use, reliability and camera technology dramatically improve.
Why Conduct a Drone Roof Inspection?
A drone pilot can inspect your home's roof in about fifteen minutes, and from the safety of doing it on the ground. No ladders are required. Today's drone camera technology offers Ultra HD 4K resolution video and 20Mpixel still pictures, providing incredibly sharp images of your roof, even when the drone is 10 to 20 feet away from the roof surface.
The drone pilot can instantly see the state of your home's roof while he/she is flying the drone over it. Immediately afterwards, the drone pilot can provide you with drone pictures or videos of your roof showing you where problems were observed by the drone.

Due to the drone camera's high resolutions, the drone pilot can zoom in on the videos and pictures to see the finest detail on the state of your roof's shingles, metal flashing, and ridge vents.
For example, the drone roof inspection pictures and videos will be able to show you if the roofing shingles are lifting up, cracking, fish-mouthing, or curling.
How Often Should Your Do a Roof Inspection?
Roofs inspections should be conducted at least twice a year, in the fall and in the spring. Conducting a roof inspection in the fall is essential for identifying any roofing problems before the winter season. Any required roof repairs can be made easily before the snow and ice hit, preventing damage to the inside of your home during the cold winter months.
In the spring, it is wise to do another roof inspection to make sure the snow and ice didn't cause any significant damage to the roof, and particularly so if you observed ice dams on your roof during the winter.
Drone Roof Inspections – More than Checking out the Roofing Shingles

In addition to inspecting the roof shingles, a drone roof inspection can be used to check the status of gutters, chimneys and any antennas that may be on the roof.

Drones can also be used to measure roof dimensions, which may be needed if it is determined that the roof needs to be re-shingled. Drones can be used to provide very accurate dimensions of the roof so that there is no waste in buying too much roofing material.

Get this Asphalt Shingle Roofing Bid Sheet and Save Time and Money on Your Roofing Project!
How Much Does a Drone Roof Inspection Cost?
The cost of a drone roof inspection will vary real estate real estate market to market. However, most drone pilots charge in the range of $80 to $150 per hour flight time.
Again, the drone pilot can complete a roof inspection in as little as fifteen minutes, so theoretically you could do the division and think the drone roof inspection will cost you in the range of $20 to $38 dollars. In reality, it will most likely cost you in the range of $75 to $125 dollars due to the drone pilots drive time, post editing and review of the drone video and pictures, and business overhead.





Make sure Drone Pilot Can Legally Perform a Drone Roof Inspection on your Home

The FAA has strict policies where drones can be flown, and not flown.

For example, a drone pilot can't go out and simply pop a drone up in the air near a major airport, not without at least first getting permission. The drone pilot first has to seek and get permission from the FAA to do so.
Fortunately, there are online tools now that allow a drone pilot to almost instantly determine if he/she can conduct a drone flight over your house. There is an APP, for example, called "AIRMAP " that anyone is free to download.
Drone pilots can use this AIRMAP APP to see if your house is an area that will require FAA approval first before flying a drone over it. If approval is required to fly the drone over your house the drone pilot can simply enter some information into the AIRMAP APP, and after doing so get almost an immediate authorization to fly over your house via a text message.
Only in certain cases will approval not be granted, and even then, with extra effort the drone pilot can usually obtain a temporary authorization to fly the drone over the property of interest.
What type of Drone Pilot Should You Hire?
There are strict FAA regulations in place for operating drones for commercial use. Make sure any drone pilot you're considering hiring has a valid and current FAA Part 107 Remote Pilot certificate, and that the drone he/she is planning to fly is registered with the FAA.
Also, make sure any drone pilot you are considering hiring has drone liability insurance. The most common drone liability insurance policies offered today are $1M. I would not recommend hiring any drone pilot without at least this level of liability insurance.
So, if it has been a while since you conducted a roof inspection on your home, forgo pulling out the ladders and risking your life. Instead, call an FAA Part 107 certified remote drone pilot to do the inspection. You'll be shocked out the speed and clarity of the drone roof inspection.
---
For more help on Shingling Your Home's Roof, see HomeAdditionPlus.com's Asphalt Shingle Roofing Bid Sheet. The Asphalt Shingle Roofing Bid Sheet will help to ensure that your roof won't end up with a blue tarp over it and a dumpster sitting in your yard for weeks as you wait for the roofing contractor to come back and finish roofing your home.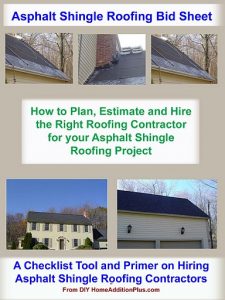 Asphalt Shingle Roofing Cost Estimator
---
Related Roofing Information
---
Additional Roofing Resources from Amazon.com
---
Roofing Price Quotes For FREE, No Obligation!
Fill out our 3-5 minute quick and easy form, and receive a free price quote on roofing from one of our prescreened and licensed roofing contractors. This process is free and there is no obligation to continue once you receive your roofing price estimate.