Tips on How to Inspect Your Roof for Damages
By Mark J. Donovan







It is important that you inspect your roof a couple of times a year. A roof that is in disrepair can lead to major expenses due to water damage and rot.

You should inspect your roof in the fall and late spring, as this way you can make roofing repairs before and after the winter season.

Before climbing up on your roof it is important to first know how to inspect your roof.
It is also important to exercise caution when climbing on a roof. Make sure you use a sturdy ladder and rubber soled shoes. Also bring a note pad and pencil to record any roof damages.
How to Inspect Asphalt Shingled Roofs
Once up on your roof, inspect for cracked and missing shingles. Also look for popped roofing nails and missing sections of ridge vent.
High winds and extreme temperature changes can cause roof shingles to dislodge and roofing nails to work their way upwards. Also inspect asphalt shingles for curling and warping. This is a sign that the shingles are either getting old and/or have been exposed to very high heat, possibly due to an inadequate amount of attic insulation.
In addition, check the shingles for a significant loss of aggregate. If you see a significant amount of aggregate lying in the gutters, this is a clear sign that the shingles are wearing. This could mean that the shingles may need to be replaced in the not too distant future.
Next check around chimneys, vent pipes and dormers to make sure the metal flashing is not corroded or missing. Also check to make sure any roofing cement is not dried out or cracking around these areas.

Metal flashing plays an integral role in preventing water from seeping into the home, and if your roof inspection suggests it is failing, you should have it repaired immediately.
Also inspect around the roof eaves to make sure no water has seeped through the lower level shingles and damaged the roof eaves. This is a common sign that you have had ice dam damage. With ice dams, water works its way up and under the bottom shingles near the eaves. The water then drips down into the roof soffit areas causing rot, mold and mildew.
Inspecting Membrane Roofs
If you have a membrane roof, look for any tears to the membrane or any standing puddles of water. Pay close attention to around scuppers and down spouts. Make sure they are not damage or clogged.
Inspecting Wooden Shake or Shingled Roofs

If you have a wooden shake or shingled roof do not climb up on the roof. Instead from a ladder look out over the roof line and inspect your roof for cracked or warped shakes/shingles.

If you see any, make a note of it and call a roofing contractor experienced in repairing wooden shakes or shingles.

Inspecting Metal Roofs

If you have a metal roof chances are it is in good shape as metal roofs typically have a very long life span, e.g. 50 years or so. 
This said, from a ladder, look out over the roof and inspect your roof for signs of rust, corrosion or pitting of the metal. Also make sure all joints and seams look tight. 
Again, if you see loose seams or joints, and any decay of the metal contact a roofing contractor experienced in installing and repairing metal roofs.
Inspecting Clay or Slate Tile Roofs
If you have a clay or slate tile roof, again do not climb up on it. Instead inspect your roof from a ladder and look for signs of cracked, broken or chipped tiles. Tiled roofs are easily susceptible to ice damage so examine them closely if you live in a cold weather climate.
So with these basic skills on how to inspect your roof, you should now be able to identify roofing problems fairly quickly. Make sure after finding any roof damage to have it repaired promptly.
---
For more help on Shingling Your Home's Roof, see HomeAdditionPlus.com's Asphalt Shingle Roofing Bid Sheet. The Asphalt Shingle Roofing Bid Sheet will help to ensure that your roof won't end up with a blue tarp over it and a dumpster sitting in your yard for weeks as you wait for the roofing contractor to come back and finish roofing your home.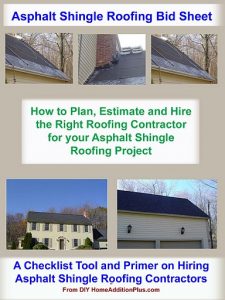 Asphalt Shingle Roofing Cost Estimator
---
Related Roofing Information
---
Additional Roofing Resources from Amazon.com
---
Roofing Price Quotes For FREE, No Obligation!
Fill out our 3-5 minute quick and easy form, and receive a free price quote on roofing from one of our prescreened and licensed roofing contractors. This process is free and there is no obligation to continue once you receive your roofing price estimate.