How-to Advice on Paving Driveways and Overall Driveway Maintenance





Besides asphalt paving, there are a number of other driveway paving solutions you can choose from today, however not all of them may be appropriate for your particular home's situation.

Paving a driveway can be very expensive, so before deciding on a driveway paving solution for your home, investigate all of the driveway materials on the market today. Driveway material solutions include asphalt, gravel, crushed stone, paving stone, concrete paving, brick, sandstone, and more.
Included in the articles below is information and guidance on how to choose the best driveway paving solution for your home's driveway. We review the pros and cons of the various driveway materials.
Also, if you are planning to have an asphalt driveway installed take a look at our Asphalt Driveway Paving Contractor Bid Sheet. It will provide you with all the asphalt driveway information you need to help you ask the right questions when finding an asphalt paving contractor. It will help ensure you get a high quality constructed driveway at an affordable price.
Asphalt and Concrete Paved Driveway Installations
Other Driveway Installation and Maintenance Options
---
How to Hire the Right Asphalt Driveway Paving Contractor – Know what questions to Ask!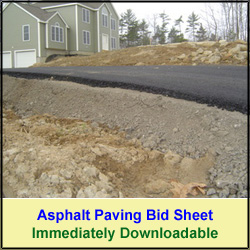 For more help on how to hire an Asphalt Driveway Paving Contractor, see HomeAdditionPlus.com's Asphalt Driveway Paving Bid sheet. The Asphalt Driveway Paving Bid Sheet will help ensure that your hire the right contractor so that your driveway is paved correctly and you get the finished driveway you are looking for. In addition, it will help to ensure that installation of your driveway will be accomplished on time and on budget.
---
Additional Driveway Paving Resources
---
Driveway Paving  Price Quotes For FREE, No Obligation!
Fill out our 3-5 minute quick and easy form, and receive a free price quote on painting & staining from one of our pre-screened and licensed painting & staining contractors. This process is free and there is no obligation to continue once you receive your painting price estimate. Click here.