An Asphalt Driveway Seal Can Significantly Extend the Life of Your Driveway
By Mark J. Donovan







If you have an asphalt driveway you should plan on applying an asphalt driveway seal every 2 to 4 years.

An asphalt driveway sealant not only gives your driveway a new-look finish, but also protects it from damage.

An asphalt driveway seal helps protect your driveway from damaging oils dripping from automobiles.
In addition, and most importantly, an asphalt driveway sealer helps to prevent water from finding its way into small cracks in your driveway. When water does find its way underneath your asphalt driveway it can undermine the driveway.
During winter months water seepage under the asphalt driveway can lead to frost heaves, which in turn can lead to more cracks in the driveway.
When a heavy vehicle drives over a melting frost heave in your asphalt driveway, it causes the driveway to crack. This in turn causes more water penetration and further decay of your asphalt driveway.
Though it is important to apply an asphalt driveway sealer to your driveway, never immediately apply it over a newly poured asphalt driveway.

You should wait at least 3 months before applying an asphalt driveway seal to it, to allow the hydrocarbon oils to fully evaporate from the driveway.

If you do not wait until the hydrocarbon oils have fully evaporated before applying the driveway seal, you may end up with a permanently soft driveway.
When applying a fresh coat of asphalt driveway seal, first make sure that all existing cracks and holes are repaired with a cold patch or asphalt driveway crack filler.
Asphalt driveway crack fillers are made from a flexible synthetic like rubber that you simply pour from a jug or tube into the driveway cracks.
After the cold patch material and/or driveway crack fillers have fully cured, which can take up to several weeks, you can then apply your asphalt driveway seal.

When applying asphalt driveway seal wait for a warm day so that it is easier to spread. Use a squeegee to spread the driveway seal. 
Make sure not to apply the driveway seal too thick or too often. A driveway seal effectively is a top coating over your asphalt driveway that penetrates only into the top surface of the asphalt. If you apply it too thick or too often it will result in unsightly peeling.
---
For more help on Asphalt Driveway Paving, see HomeAdditionPlus.com's Asphalt Driveway Paving Bid sheet. The Asphalt Driveway Paving Bid Sheet will help ensure that your hire the right contractor so that your driveway is paved correctly and you get the finished driveway you are looking for.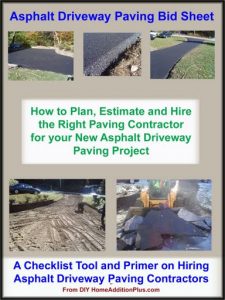 Related Information
---
Additional Driveway Paving Resources
---
Driveway Paving  Price Quotes For FREE, No Obligation!
Fill out our 3-5 minute quick and easy form, and receive a free price quote on painting & staining from one of our pre-screened and licensed painting & staining contractors. This process is free and there is no obligation to continue once you receive your painting price estimate. Click here.