Asphalt Paving a Driveway in Winter Depends on One Important Condition
By Mark J. Donovan







Frequently I get asked the question by homeowners on whether or not a driveway can be asphalt paved in winter.

The answer depends on whether or not the ground is frozen. Simply put, if the ground is frozen do not allow the asphalt paving contractor to apply the asphalt. If it is applied when the ground is frozen it will not roll to grade well. The asphalt arrives on the job site extremely hot allowing it to be easily spread and rolled to grade.
However, if the hot asphalt is poured onto a frozen surface such as the ground, the asphalt will immediately begin to stiffen or freeze up.
Check out this Asphalt Driveway Paving Bid Sheet that will answer many of your questions and help you find the right paving contractor for your project.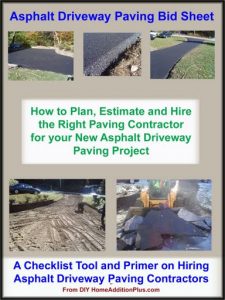 Even if the asphalt driveway is able to be rolled to grade while the ground is frozen it will result in a poor quality driveway that will quickly begin to break down. The reason for this is the aggregate material embedded in the asphalt will not be firmly packed with the asphalt, thus resulting in stones quickly becoming loose.
If, the temperature is below freezing, but the ground has not yet frozen it is acceptable to have the Asphalt paving contractor install the asphalt driveway. Unlike a frozen ground, below freezing air temperatures will not dramatically affect the rate of hardening of the asphalt material. Thus the asphalt paving contractor will be able to roll the asphalt to grade and achieve the right level of compression.

To conclude, if you live in the northern half of the United States, and it is already December, it is probably wise to hold off any asphalt paving projects until springtime.
---
For more help on Asphalt Driveway Paving, see HomeAdditionPlus.com's Asphalt Driveway Paving Bid sheet. The Asphalt Driveway Paving Bid Sheet will help ensure that your hire the right contractor so that your driveway is paved correctly and you get the finished driveway you are looking for.
Related Information
---
Additional Driveway Paving Resources
---
Driveway Paving  Price Quotes For FREE, No Obligation!
Fill out our 3-5 minute quick and easy form, and receive a free price quote on painting & staining from one of our pre-screened and licensed painting & staining contractors. This process is free and there is no obligation to continue once you receive your painting price estimate. Click here.