The Best Great Room Addition Design Ideas combine Multi-Functional Living Needs into One Large Room
By Mark J. Donovan







Great room addition design ideas are as abundant as your imagination. In a broad brush stroke, the best great room ideas are about designs that provide spaciousness and warmth simultaneously.

However the top great room design ideas are all about bringing families closer together.

The great room has ebbed and flowed in popularity over the past couple of decades due to the changing lifestyles and spending habits of the American public. 
For many homeowners, the formal living room and dining room has become antiquated and out of touch with their busy lifestyles.
As a result, they prefer home styles that include large great room design ideas where the traditional family room and dining room are combined into one large room. For others, the concept of a great room is wasted space and prevents the use of additional living space being created within the home.
Regardless of preference, however, no one denies the beauty and openness of a great room.
Great Room Addition Costs
Great room addition costs vary depending upon the size of the addition, and/or the features in it. For example, including a stone or brick fireplace in a set of great room addition plans can add dramatically to the costs of the project. Similarly, including wood floors and/or plumbing can dramatically increase great room addition costs. 
If you want to quickly come up with your own great room addition cost estimates use this room addition bid sheet. It includes an Excel spreadsheet that lists all of the items that you would typically need to include in a large room addition project. 
A great room design plan is typically synonymous with large vaulted ceilings and wide open areas. Most great room addition designs are centrally located within the home and act as the focal point of the home.

If you are planning a new home or home addition that includes a great room there are a number of excellent great room design ideas that you should consider.
When developing great room addition plans there are four main structural considerations you should focus on.
Structural Great Room Addition Design Idea #1
First is the size of the great room. The perfect great room design should be large, as it is supposed to be a great room.
It should also be able to serve at least two functions of the standard home. For example, it could serve as the traditional living room and dining room area. Alternatively, you may want it to serve as a living room and den area.
Structural Great Room Design Idea #2
Second, cathedral ceilings or vaulted ceilings are a signature feature in a great room design. Think of the great room in medieval castles. They are expansive with high ceilings. A great room design must include high ceilings to truly qualify as a great room.
Structural Great Room Design Idea #3
The third great room design idea, is to have a floor plan that has it centrally located within the home. A great room is meant to be the common area of the home, and consequently it should be at the center of the home and home activity.
Structural Great Room Design Idea #4

Finally, a great room design should include copious amounts of light and preferably natural light. In addition, sufficient electrical lighting should be supplied to maintain the room's brightness in the evening hours.

Accent Great Room Design Ideas

When developing a set of great room plans it is important to think about adding touches of elegance and grandness to the room. For example, you may want to consider the use of exposed timbers and beams in the vaulted ceilings.
In addition, you may want to include in the great room design the use of accent lighting along the beams and in the corners of the room to provide texture and drama to the ceilings.
In addition to exposed beams, you may also want to consider the use of exposed posts and/or columns to provide a feeling of greatness and strength in the great room.
The use of large entrance-way arches is another excellent great room design idea.
Home Electronics and Great Room Design Ideas

Since most great rooms act as the central living room or family room, it is also important to consider the location of home theater systems and stereo systems.

Consequently sufficient wall space should be included in your great room design plans to allow the installation of this type of electronic equipment. 
Alternatively you may want to consider the use of built-in cabinets in your great room design plans for housing the electronics. Also, make sure you identify and include all of the necessary outlet connections you need for your home theater system in your great room design plans.
It is also important to note that great rooms have the tendency to have poor acoustics, so you may want to consider the use of wall fabrics and other types of tapestries to help absorb sounds within the room. A home theater system, for example, may end up reverberating in the great room if sound damping methods are not employed in it.
Great Room Design Ideas – Lighting

As I have already noted, it is important to include as much natural lighting in a great room as possible.

The use of sky lights and a wall of windows are excellent great room ideas.

In addition you may want to include spot lighting for over the dining area as well as a large centrally located chandelier for lighting the entire great room.





In addition, the use of wall sconces and track lighting is another excellent great room design idea. If you anticipate hanging paintings in the room, you may also want to consider the use of spot lighting over the areas where paintings are expected to be hung.
n regards to the home theater area of the room, you will also want to utilize dimmer switches to control the lights in different areas of the great room. Also, don't forget to include speaker wiring and outlets for wall and ceiling speaker mounts.
With these simple great room design ideas you can maximize the splendor and functionality of your future great room. In addition, these key great room ideas can maximize the return on investment in your great room plans.
---
For more help on building a great room addition, see HomeAdditionPlus.com's Home Addition Bid Sheets. Our Home Addition Bid Sheets provide you with the knowledge and information on how to plan a home building project, and what to look for when hiring contractors. They also include detailed cost breakdown tables and spreadsheets for estimating your own new home construction building costs.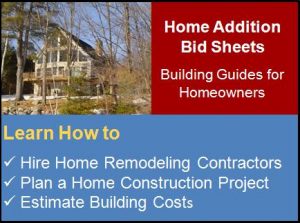 Related Information on Great Room Addition Design Ideas
---
Free Home Addition Price Quotes with No Obligation!
Fill out our 3-5 minute quick and easy form, and receive a free price quote on a house addition from one of our prescreened and licensed home addition contractors. This process is free and there is no obligation to continue once you receive your home addition price estimate.