Home Addition Cost Estimates Vary with the Home Addition Type
By Mark J. Donovan







If you are looking for more living space, a home addition is a great alternative to selling your home and buying a new and larger one. However expect to see higher cost per foot quotes with home addition estimates, compared to new home construction costs. Unlike a newly constructed home, there are hidden costs that are not always obvious, and that drive up home addition cost estimates.

For example, many home addition projects require the removal of some of the home's original house siding and punching into the existing house.
This said, when you factor in the total cost of buying and selling a home, a home addition almost always makes more financial sense.
And in many cases it makes the most functional sense, when you consider issues like moving kids into new school districts.
When estimating home addition costs it is also important to keep in mind increases in future operational costs for the new and enlarged home. Property tax assessments normally go up in direction proportion to the increase in completed living space. In addition, energy costs will also go up.



If you do not plan to use an architect than buy yourself a home design software package to draw out the plans. A home design software package will ensure that the home addition is both aesthetically attractive and functional. It can also help to generate a bill of materials and cost information for the construction project. You'll need this information for pulling a building permit for the project.

Market Analysis

After coming up with an initial size and floor plan of your room addition, you'll want to contact a real estate agent to come out and do a competitive market analysis (CMA) of your home, with and without the room addition.
Home Addition Estimates for Converted Living Space Projects
Home addition estimates for converting existing space into new living space, such as converting an attic into a bedroom, or finishing a basement, typically cost less than literally building a new structure onto the existing home. When building a new structure, besides having to tear of existing house siding and punching into the existing home, there is also excavation and foundation work required. In addition, a roof has to be added and in many cases, the heating and cooling system needs to be expanded to support the larger living space.
If ultimately, you are looking for more living space within your home, then converting an existing space within your home to another type of finished living space may not be sufficient. In addition, if your home is on a slab, finishing a basement may not even be an option.

Estimating Home Addition Costs on a Second Story Addition

Home addition estimates for building a second story addition are also typically higher than other types of home addition projects. With second story home additions, the home's roof has to be torn off.
Also, additional structural framing is typically necessary on the first floor of the home to support the weight of the new second story. In addition, homeowners commonly need to temporarily move out of the home during these types of home addition projects.
Kitchen and Bathroom Home Addition Estimates

Not surprisingly home addition cost estimates for kitchen and bathroom remodeling projects are typically much more expensive than say a family room addition. With kitchen remodeling projects there are high cabinet, countertop and appliance costs, and with bathroom additions there are expensive plumbing fixtures. In addition, kitchen and bathroom additions or remodeling projects typically involve extensive plumbing and electrical work.
Obtaining Home Addition Estimates and Finding Qualified Home Remodeling Contractors
To obtain accurate home addition estimates from qualified contractors, first have a complete set of home addition plans in hand.
With plans in place, I highly recommend using a national home remodeling contractor referral company to find a qualified home remodeling contractor. These companies maintain a national database of local home remodeling contractors that have gone through an extensive background check to confirm that they are licensed, insured and have a solid track record. In addition, my Home Addition Bid Sheets are excellent resources for learning how to submit your home addition project out for bid, and how to evaluate contractor bids.
---
For more help on Building a Home Addition, see HomeAdditionPlus.com's Room Addition Bid sheet. The Room Addition Bid Sheet will help ensure that your room addition project goes smoothly and is completed on time and budget.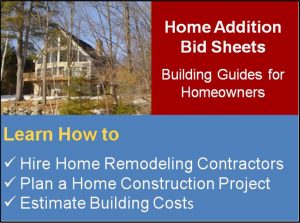 Related Information on Estimating Home Addition Costs
---
Free Home Addition Price Quotes with No Obligation!
Fill out our 3-5 minute quick and easy form, and receive a free price quote on a house addition from one of our prescreened and licensed home addition contractors. This process is free and there is no obligation to continue once you receive your home addition price estimate.