Key Considerations when Contemplating Building a Room Addition
By Mark J. Donovan







Deciding on building a home addition is an excellent choice when it comes to providing additional living space for your family.

In most cases it is more economical than selling an existing home and moving into a larger one.

As a result, besides providing additional living space, more often than not building a home addition is an excellent financial investment too.
All this said there are a number of critical items that must be considered before moving forward with such a large home improvement project.
To ensure the room addition makes financial sense it is important to take a careful look at the home market values in your neighborhood.
From a market analysis you can assess what size of a home addition makes financial sense. Other important factors that also need to be considered include; the addition's architecture, the project schedule, financing, the level of disruption your family can stand during the construction, and how much sweat equity you plan to put into the project.
Architectural Home Addition Considerations
It is important when sizing out your home addition that you are careful not to have it dwarf the existing home's footprint. It is also important that the room addition aesthetically meld well into the existing home, both from a floor plan and from the exterior of the home perspective. If done right when the home addition is completed it should look like it belonged there all along. As a result, a lot of care needs to be made in the placement location of exterior doors and windows, rooflines, house siding, and elevations. All should be integrated into the home addition so that they meld seamlessly into the existing home's exterior and interior design.




If you do not plan to use an architect than buy yourself a home design software package to draw out the plans.

A home design software package will ensure that the home addition is both aesthetically attractive and functional.

It can also help to generate a bill of materials and cost information for the construction project. You'll need this information for pulling a building permit for the project.
Market Analysis
After coming up with an initial size and floor plan of your room addition, you'll want to contact a real estate agent to come out and do a competitive market analysis (CMA) of your home, with and without the room addition.
This effort takes time and money, both in the design and construction of the room addition. Consequently home construction contractors charge a premium when providing a room addition cost estimate.Room addition cost estimates can vary dramatically due to a number of factors, chief amongst them being what is specified in the room addition plans. For example, room addition costs estimates of $80 to $130 per square foot for a basic family room addition is common.
If the room addition includes bathrooms and/or a kitchen, the room addition costs can easily escalate to $200-250 per square foot. So for example, if your room addition plans specify the construction of 400 square feet of family room living space, without any type of bathroom or kitchen area, you can expect to pay $32,000 – $52,000 for a completed addition. If, on the other hand you are including a bathroom and/or kitchen, you could see room addition cost estimates as high as $100,000.
Room addition cost estimates can also vary with market demand for building material and home construction labor. Price gouging is not uncommon during hot housing markets, so it is important to study contractor proposals carefully.

Do not hesitate to visit your local home improvement store and compare material costs if you think you may be getting priced gouged on a contractor cost estimate.
Keep in mind, however, that the costs you see at the local home improvement store and from the contractor will differ somewhat.
The real estate agent will find other local properties to compare your home to, relative to the before and after dimensions of it. The maximum value of the home that the real estate agent determines with the home addition included, should represent the maximum amount of money you may want to invest in the home addition if you are concerned about the return on investment (ROI). For example if the home's value increases by $75K with the room addition included, then you may want to limit your room addition budget to $75K.
Financing your Home Addition
Financing is another major consideration unless you plan to pay cash for building the home addition. You have a couple of choices when it comes to financing. You can either get a home equity loan for the dollar amount of building the home addition, or you can refinance the entire home such that it includes the cost of the home addition. What route you choose will depend upon the current interest rates relative to the interest rate you're currently paying on your existing mortgage.
Project Scheduling

Coming up with a project construction schedule is also critical. It should also factor in how much personal sweat equity is planned for building the home addition.

If you plan to put in sweat equity into the project be realistic with the amount of time you'll have to do so and factor this time accordingly into your project schedule. 
More often than not the DIY homeowner who plans to do a lot of the work themselves in a major construction project winds up dragging out the project significantly.
They have good intentions at the outset, but inevitably work and family obligations get in the way. Also, building a home addition takes a lot of upfront knowledge and brawn. So if you lack either, higher professionals. You'll get the project completed more quickly and it will be done right, if you hire the right home addition contractor.
When developing your schedule make sure to include start and complete dates for each phase of the project, from excavation and foundation work, to the finish carpentry. These intermediate time intervals and milestones will help you to develop an overall schedule and more effectively cost out the project. It will also help you with the coordination of subcontractors such as framers, electricians and plumbers.
Tolerance Level of Family Life Disruptions

Building a home addition is a major construction project and can take several months to complete. Consequently be prepared for contractors trekking all around the exterior of your home, and for a portion of it, inside your home.

In most cases you'll be able to live in your home while the home addition is being built. If, however, you're building a second story addition over your existing home or your addition includes a kitchen you may need to move the family out of the home for awhile.





Building a home addition can also create some extra mess both outside and inside your home so be prepared for it. Also, you may want to include in your budget a portable toilet so that you don't have to have contractors traipsing through your home to use your bathroom.
After giving careful consideration to all of the above mentioned items you still feel up to building a home addition, then move forward with the project. Again, building a home addition in most cases makes the most financial sense for providing more finished living space for a family. And when planned out properly, and the right building contractor is hired, the construction of such a project can go very smoothly.
---
For more help on Building a Home Addition, see HomeAdditionPlus.com's Room Addition Bid sheet. The Room Addition Bid Sheet will help ensure that your room addition project goes smoothly and is completed on time and budget.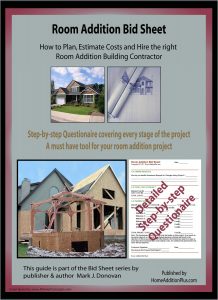 Related Information on Building a Home Addition
---
Free Home Addition Price Quotes with No Obligation!
Fill out our 3-5 minute quick and easy form, and receive a free price quote on a house addition from one of our prescreened and licensed home addition contractors. This process is free and there is no obligation to continue once you receive your house addition price estimate.