Tips on How to Insulate a Crawl Space
By Mark J. Donovan







Crawl space insulation is important for keeping your home warm during the cold winter months. More specifically, crawl space insulation helps keep first level floors feeling warmer.

If you've ever walked into a room during the cold winter months that has an uninsulated crawl space underneath it you know what I mean. Wearing slippers or socks are a must! Besides keeping your feet warmer, crawl space insulation helps to cut down on your home's energy bills.
So if your crawl space is uninsulated consider insulating it. Insulating a crawl space is an easy weekend DIY project.
How to insulate a crawl space and what types of insulation should be used vary with how the crawl space is constructed and whether or not its a unventilated or ventilated crawl space.
In addition, there should be a vapor barrier installed on the crawl space floor to prevent ground moisture from wicking up into the crawl space area. A high moisture crawl space will lead to mold and mildew growth.
Types of Crawl Space Insulation
There are a number of products available to you when it comes to insulating your crawl space. In terms of crawl space insulating material options, you have fiberglass rolled or batt insulation, rigid foam insulation, and wood fiber insulation. Fiberglass rolled or batt insulation and rigid foam insulation, however, are the two most common types of crawl space insulation used.
Insulation is rated on its thermal heat transfer properties. Consequently each insulation type is given an R-value rating that specifies its thermal insulating capability. The "R-value" refers to heat flow resistance, and the higher the R-value the more efficient the insulation is in preventing heat transfer. The R-value is always clearly marked on the insulation package information. However, if you have any doubts just ask a salesperson who sells insulation.
What to Insulate in a Crawl Space

How you insulate a crawl space depends upon whether or not it is a ventilated or unventilated crawl space. With a ventilated crawl space you should insulate the crawl space ceiling and with an unventilated crawl space you should only insulate the walls.

If you're insulating crawl space foundation walls then you should use rigid foam insulation or fiberglass batt insulation. 
My preference, however is rigid foam insulation. Fiberglass batt insulation can become ineffective and moldy if it gets wet or there is high humidity in the crawl space, which theoretically there shouldn't be.
If you do choose to use fiberglass batt insulation then I'd recommend installing 2×4 walls along the interior perimeter of the foundation walls. You can then install the fiberglass insulation in between the stud bays.
Whether you use rigid foam insulation or fiberglass batt/rolled insulation it should reach from the top of the crawl space walls to the crawl space floor. If using fiberglass batt or rolled insulation, extend it down so that it actually folds a few feet onto the crawl space floor.

If the crawl space is vented to the outside you'll need to insulate the crawl space ceiling. Also make sure to insulate any plumbing pipes to prevent them from freezing during the cold months.

To insulate a crawl space ceiling use unfaced fiberglass insulation and hold it in place with wire rods specifically designed to hold insulation up in between floor joists bays. 
The insulation effectively acts as a blanket trapping radiated heated air near the crawl space ceiling in between the insulation and the crawl space ceiling.
---
For help on building a home addition, see HomeAdditionPlus.com's Home Addition Bid Sheets. Our Home Addition Bid Sheets provide you with the knowledge and information on how to plan a home addition project, and what to look for when hiring contractors. They also include detailed cost breakdown tables and spreadsheets for estimating your own new home addition building costs.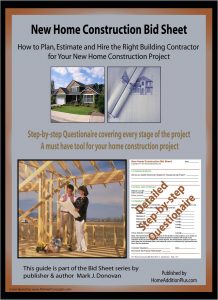 Related Information on Insulating Crawl Spaces
---
Free Home Addition Price Quotes with No Obligation!
Fill out our 3-5 minute quick and easy form, and receive a free price quote on a house addition from one of our prescreened and licensed home addition contractors. This process is free and there is no obligation to continue once you receive your house addition price estimate.