What to Consider for Steel Garage Door Options when Shopping for a New Garage Door
By Mark J. Donovan







Mark Donovan of HomeAdditionPlus reviews steel garage door option considerations in this video. 

When shopping for a steel garage door there are number of options you need to consider when making your selection.

Insulated or Non-Insulated Steel Garage Doors

First and foremost you need to decide if you want to buy an insulated steel garage door or an un-insulated one. 
If the garage is below a finished room then you should buy an insulated steel garage door.
The insulation R-value for steel garage doors varies considerably. At the low end of the steel garage door market you can buy the basic steel pan garage door with no insulation. It has an R-value of 0.
Alternatively, at the high end of the steel garage door market you can buy garage doors with an R-value of 12 or higher. These types of steel garage doors have polystyrene insulation sandwiched in-between two layers of steel.
In the middle price range you can find steel garage doors with polystyrene insulation on the back side of the steel garage door. There is no steel backing protecting the insulation, however, so the insulation is at risk of getting dented or cut.

Steel Horizontal Struts

Another major consideration in steel garage door options is the number of horizontal steel struts included in the installation of the door. I would highly suggest using three horizontal steel struts. The steel struts add strength and rigidity to the garage door.
Torsion Springs vs Counter-balanced Springs
You have two choices of springs to include in the installation of a steel garage door, torsion springs or counter-balanced springs. Torsion springs sit above the garage door and provide a cleaner look to the garage door. They are rated on the number of cycles they can open and close the door. For example the one I installed in this video has a warranty of 10,000 cycles. Torsion springs are also considered to be easier to install and are safer than counter-balanced springs.
Counter-balanced springs are located on the sides of the garage door tracks. They are more difficult to install than torsion springs and they can be dangerous both in the installation of them and in the event they break.

If a spring/cable breaks with a counter-balanced spring they can go flying and injure someone if they are standing near the garage door.
Garaged Door Tracks
Garage door tracks are typically sold in either 2 inch tracks or 1-3/8 inch tracks. The type of garage door track chosen is based upon the type of steel garage door you purchase.
I prefer the 2 inch garage door tracks as they are stronger and can support a thicker and more insulated garage door.
Garage Door Bottom Seal
Make sure you choose a quality garage door bottom seal when choosing steel garage door options. A quality garage door bottom seal will prevent air, water, insects and rodents from slipping underneath the garage door when it is closed.
---
For more information on building a garage addition see the Garage Addition Bid Sheet from HomeAdditionPlus.com. The Garage Addition Bid Sheet includes an extensive questionnaire (Request for Quote) that a homeowner can provide to prospective general contractors and subcontractors for bidding the garage addition. In addition, the Garage Addition Bid Sheet also includes estimated costs and time intervals for constructing a garage addition as well as a list of key home material manufacturers. Finally, the Garage Addition Bid sheet includes an extensive set of helpful tips and advice on making sure the garage addition is built properly and on time and budget.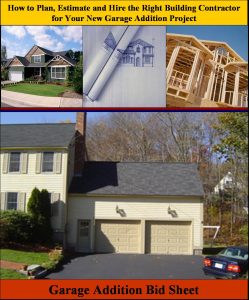 Related Information on Steel Garage Doors
---
Free Garage Addition Price Quotes with No Obligation!
Fill out our 3-5 minute quick and easy form, and receive a free price quote on a garage addition from one of our prescreened and licensed garage addition contractors. This process is free and there is no obligation to continue once you receive your garage addition price estimate.