Tips on How to Install a Garage Door Opener
By Mark J. Donovan







In this video Mark Donovan of HomeAdditionPlus.com shows how to install a garage door opener. Installing a garage door opener can be done by the average do it yourself homeowner, however plan on spending the better part of a day installing one.

When installing a garage door opener on a metal garage door, always use metal reinforcement brackets on the garage door. If you do not, the garage door opener will damage the garage door.
Always make sure to mount the garage door opener rail bracket into the garage door header beam that runs above the garage door, or in a wall stud above the garage door. If you do not, the garage door opener will coming crashing down in short order.
Likewise, when mounting the garage door opener motor assembly to the garage ceiling, make sure the supporting brackets are screwed, or lag bolted, into ceiling joists using at least 2 inch long screws/bolts. A garage door opener exerts a great deal of force when opening and closing a garage door. If it is not securely mounted into headers/wall studs and ceiling joists it will come crashing down, and possibly injuring someone or something.
When installing the garage door opener button for opening and closing the garage door, make sure to mount it at least 5 feet off the ground so children cannot reach it.
Also, make sure electrical wires are neatly fastened to wall studs or drywall using staples, however make sure you do not inadvertently cut or short the wires when fastening the staples.
After installing the garage door opener, adjust it to make sure it opens fully and closes tightly.
Finally, make sure that the sensitivity is adjusted on the garage door opener so that the garage door will rise back up if it feels too much pressure pushing upwards on it.
---
For more information on building a garage addition see the Garage Addition Bid Sheet from HomeAdditionPlus.com. The Garage Addition Bid Sheet includes an extensive questionnaire (Request for Quote) that a homeowner can provide to prospective general contractors and subcontractors for bidding the garage addition. In addition, the Garage Addition Bid Sheet also includes estimated costs and time intervals for constructing a garage addition as well as a list of key home material manufacturers. Finally, the Garage Addition Bid sheet includes an extensive set of helpful tips and advice on making sure the garage addition is built properly and on time and budget.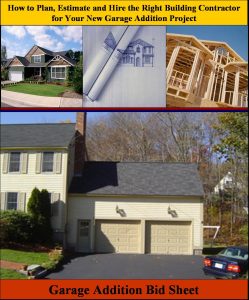 Related Information on Garage Door Installation and Other Garage Projects
---
Free Garage Addition Price Quotes with No Obligation!
Fill out our 3-5 minute quick and easy form, and receive a free price quote on a garage addition from one of our prescreened and licensed garage addition contractors. This process is free and there is no obligation to continue once you receive your garage addition price estimate.