Platform Framing is the Predominate Framing Method for Building Multistory Residential Homes
By Mark J. Donovan







Today most two or three story homes are constructed using platform framing. Platform framing replaced balloon framing decades ago as the predominate multistory framing technique due to three major factors.

First, balloon framing had a history of fire concerns, as balloon framing used very long exterior wall studs to create multiple floors.

The long wall studs effectively created long bays, or chimneys, that allowed fire to travel quickly from basements to upper level floors.
Second, due to the fact that balloon framing required very long wall studs, the walls were extremely heavy to lift creating hazardous work conditions for framing crews. Finally, very long studs were difficult to find and more expensive from a cost/foot perspective.
Consequently platform framing has become the framing method of choice when it comes to building 2 story and 3 story homes.
What is Involved in Platform Framing

Platform framing involves the construction of walls and floors by using single story wall studs to form the exterior walls, and attaching floor joists to the top of the walls to create upper floors.

To more specifically describe the platform framing method it is best to start from the ground up. First, a floor is constructed on top of the basement wall sill plates using floor joists.
The floor joists are then sheathed with 3/4th inch tongue and grooved plywood or OSB (Oriented Strand Board).
Single story walls are then built on the first floor using single story wall studs and sheathing.
The framed walls are fabricated using vertical wall studs and two horizontal boards that form the sole plate and top plate that tie the vertical wall studs together.

The walls are then stood up and nailed into place along the exterior of the home.

The second story floor joists are then attached to the top plates and then sheathed to create the second story floor. This process is repeated for additional floors.





It is this stacking of floors and single story walls that constitutes platform framing. Platform framing produces a structurally strong home that reduces the risks of fires spreading quickly from the basement to upper levels. And because the walls are shorter and lighter they are less expensive, and easier and safer to construct and erect.
---
For more help on building a home addition, see HomeAdditionPlus.com's Home Addition Bid Sheets. Our Home Addition Bid Sheets provide you with the knowledge and information on how to plan a home building project, and what to look for when hiring contractors. They also include detailed cost breakdown tables and spreadsheets for estimating your own new home construction building costs.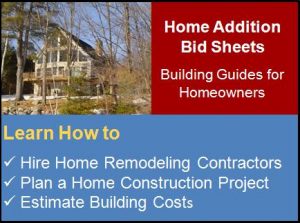 Related Information
---
Additional Framing Resources from Amazon.com
---
Free Home Addition Price Quotes with No Obligation!
Fill out our 3-5 minute quick and easy form, and receive a free price quote on a house addition from one of our prescreened and licensed home addition contractors. This process is free and there is no obligation to continue once you receive your home addition price estimate.