How I Strengthened my Chimney Chase to Support the Extra Weight of Attaching Veneer Stone
By Mark J. Donovan







We decided to replace the clapboard siding on our chimney chase with natural veneer stone. The only problem we discovered in doing this was the extra weight of the stone would be potentially structurally overwhelming for the chimney chase. 

We discovered this risk when we examined the chimney chase framing and saw that the chimney chase was constructed out of 2x4s and that the chimney chase effectively just sat on top of the roof rafters, rather than integrated into them.
So, I decided the best course of action was to beef up the chimney chase framing, and most importantly tie the chimney chase framed walls into the roof rafters, rather than just sitting on top of them.
After talking to my stone mason, I decided that it would be wise if I sistered 2x4s and/or 2x6s to the existing chimney chase wall studs and have the sistered lumber also tie into the roof rafters. 
So, with six 2×4 / 2×6 pieces, each four feet in length, I secured them to the chimney chase wall studs and the roof rafters. 

Though it was extremely difficult working in the attic, and in particular the chimney chase, using a nail gun I was able to securely fasten the new pieces of lumber to the existing chimney chase 2x4s and the 2×12 roof rafters.
And with that job now done, my chimney chase should be structurally sound to support the added weight of the natural veneer stone.
---
For more help on building a home addition, see HomeAdditionPlus.com's Home Addition Bid Sheets. Our Home Addition Bid Sheets provide you with the knowledge and information on how to plan a home building project, and what to look for when hiring contractors. They also include detailed cost breakdown tables and spreadsheets for estimating your own new home construction building costs.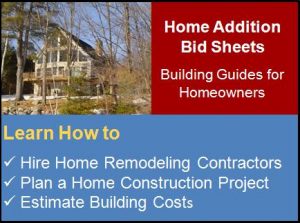 Related Information
---
Additional Framing Resources from Amazon.com
---
Free Home Addition Price Quotes with No Obligation!
Fill out our 3-5 minute quick and easy form, and receive a free price quote on a house addition from one of our prescreened and licensed home addition contractors. This process is free and there is no obligation to continue once you receive your home addition price estimate.