Load Bearing Walls Should Never be modified without First Architectural Review
By Mark J. Donovan







Load bearing walls as the name suggests are walls that bear the weight of upper levels and the roof.

It is extremely important to never remove or modify load bearing walls without first seeking input from an architect or your local building inspector.

Removing or modifying a load bearing wall could lead to catastrophic failure of the home which in turn could endanger the lives of people in the home.
What are Load Bearing Walls?
In general any wall that runs perpendicular to floor joists and or roof rafters is a sure bet that it is probably a load bearing wall.
Gable end walls, which in certain cases do not have floor joists or roof rafters running perpendicular to them, are also load bearing.
This said, your home's exterior walls are typically load bearing walls. The reason for this is that exterior walls sit on the foundation walls and carry the load of upper levels, ceilings and roofs.

In addition to exterior walls acting as load bearing walls there are also many cases where interior walls are load bearing. Typically interior walls that run perpendicular and mid-span to floor joists or rafters are load bearing walls.
These types of load bearing interior walls transfer the weight of upper levels, roofs and ceilings down to the foundation walls or lally columns that are strategically placed in the basement.
Lally columns are steel, cement filled columns that are set on cement footing pads in the center part of basements and support heavy beams. The beams are either 3 to 4 laminated 2×10's or 2x12s, engineered timbers, or steel I-beams.

The home's exterior sheathing, e.g. plywood or Oriented Strand Board (OSB), that are attached to the exterior walls of the home provide additional structural integrity to the home.

The exterior sheathing provides load strength for lateral stresses that are caused by wind and seismic events. Crossbracing of the framing members also helps to support lateral load stresses on the home. 
Crossbracing can be identified in a home by looking for angled boards or metal rods/straps that start at the corner of a wall and run a portion of the length of the wall from top to bottom.
---
For more help on building a home addition, see HomeAdditionPlus.com's Home Addition Bid Sheets. Our Home Addition Bid Sheets provide you with the knowledge and information on how to plan a home building project, and what to look for when hiring contractors. They also include detailed cost breakdown tables and spreadsheets for estimating your own new home construction building costs.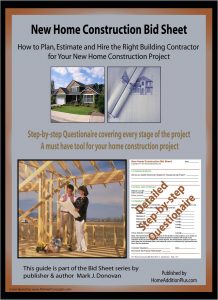 Related Information on Framing and Home Building
---
Additional Framing Resources from Amazon.com
---
Free Home Addition Price Quotes with No Obligation!
Fill out our 3-5 minute quick and easy form, and receive a free price quote on a house addition from one of our prescreened and licensed home addition contractors. This process is free and there is no obligation to continue once you receive your home addition price estimate.