Precast Foundation Wall Systems Offer Many Benefits over Traditional Poured Concrete Foundations
By Mark J. Donovan







Question: Mark, I have been researching modular home companies and came across this person who is recommending a new modular foundation wall system.

I am wondering if you are aware of this particular product from Superior Walls and have an opinion of it. I would like to get your take on precast foundations walls as to whether or not I should consider this product for the foundation on a modular home I am working on, or play it safe and stick with the tried and true poured concrete foundation.
Answer: E.Z. Unfortunately I have not personally used the modular foundation wall system you are referring to.
This said, I have experience with poured concrete and block foundation walls, and I  have heard of other contractors who have used modular foundation wall systems (not necessarily this exact product), and I've only heard positive things about them. I also remember seeing on "This Old House" years ago a home outside of Boston, MA that they were working on which used a similar precast foundation wall system.
With a crane they were able to install all of the modular foundation wall sections in a day to complete the entire foundation project.

The fact that with the foundation wall panels, they are custom designed specifically for each home, and manufactured in a controlled environment, should ensure straighter and more plumb foundation walls.
Moreover, the fact that they are using 5,000 PSI concrete with rebar installed in the panels, will surely provide the strength and the dryness necessary for building multi-story homes and/or with finished basements.
I also like that insulation, drainage pipes, and interior wall studs with channels for wiring, are integrated into the foundation wall systems. This saves a lot of work if you plan on finishing your basement.
Note that there are other precast foundation wall systems on the market that also include paperless interior grade wallboard affixed to the pre-cast foundation panels.
As a result, the interior seams only need to be taped and mudded to complete the drywall portion of the finished basement.

Warranty Questions on Foundation Wall Systems

The only concern I would have with the Superior Wall modular foundation wall system is that the warranty for a "dry basement" is for only 15 years. It makes me wonder why so short a period of time.
I'm also curious on how the vertical seams are designed to be water tight? You may want to explore these concerns with the manufacturer before committing to this particular modular foundation wall system.
One final note, with any quality home construction it starts below ground level. All foundation walls, regardless if it's a poured foundation wall or a modular foundation wall system, should sit on a properly engineered and sized footing that is resting on compacted chipped gravel/stone, and that is located below the average annual frost line for your particular climate region.
Also, a drain system should be installed around the perimeter of the footing and foundation walls to ensure your basement stays dry.
---
For more help on building a home addition, see HomeAdditionPlus.com's Home Addition Bid Sheets. Our Home Addition Bid Sheets provide you with the knowledge and information on how to plan a home building project, and what to look for when hiring contractors. They also include detailed cost breakdown tables and spreadsheets for estimating your own new home construction building costs.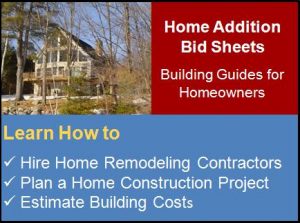 Related Information
---
Free Home Addition Price Quotes with No Obligation!
Fill out our 3-5 minute quick and easy form, and receive a free price quote on a house addition from one of our prescreened and licensed home addition contractors. This process is free and there is no obligation to continue once you receive your house addition price estimate.