Instructional video on how to install a 3-way Dimmer Light Switch
By Mark J. Donovan


In this video, Mark Donovan of HomeAdditionPlus.com, shows how to install a 3-way dimmer switch.
A dimmer switch is a great lighting accessory to a dining room, living room or home theater. It can really make a room feel warm and cozy on a cold winter evening.
Fortunately dimmer switches are easy to install and require just a few basic tools.

In this video Mark steps through the process of installing a dimmer switch in a lighting configuration where two switches control the light, also known as a 3-way circuit.

Warning: When working with electricity use extreme caution to avoid the risk of electrical shock. 
Make sure to first shut off power at the main circuit panel and then confirm all power to the electrical fixtures and boxes are off prior to beginning any work on them.
---
For help on building a new custom home, see HomeAdditionPlus.com's New Home Construction Bid Sheet. The New Home Construction Bid Sheet provides you with the knowledge on how to plan a custom home building project, and what to look for when hiring contractors for your new home construction. It also includes a detailed cost breakdown table and spreadsheet for estimating your own new home construction building costs.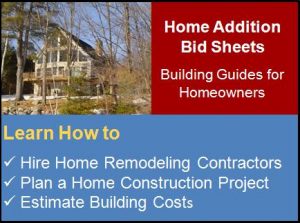 Related Information
---
Additional Electrical Wiring Resources from Amazon
---
Free Home Addition Price Quotes with No Obligation!
Fill out our 3-5 minute quick and easy form, and receive a free price quote on a house addition from one of our prescreened and licensed home addition contractors. This process is free and there is no obligation to continue once you receive your house addition price estimate.