The use of a High Voltage Tester and a Digital Multimeter in Home Electrical Wiring
By Mark J. Donovan







In this video, Mark Donovan of HomeAdditionPlus.com, explains the safety precautions that should be employed when performing home electrical wiring, including turning power off at the main circuit panel and the use of electrical circuit testers.

Mark shows how to use a high voltage neon circuit tester and a digital multimeter. Both can test for high voltage on an electrical outlet, switch or fixture.
The digital multimeter can also be used for checking connectivity in a circuit and for measuring current draw in a circuit.
Measuring connectivity is extremely useful when debugging an electrical circuit, such as figuring out what romex cable end in an electrical box is associated with another romex cable end in another electrical box.

Inspect the stripped wire to make sure there are no nicks on it. If it looks free of nicks you are ready to use the wire in your electrical project.
---
For help on building a new custom home, see HomeAdditionPlus.com's New Home Construction Bid Sheet. The New Home Construction Bid Sheet provides you with the knowledge on how to plan a custom home building project, and what to look for when hiring contractors for your new home construction. It also includes a detailed cost breakdown table and spreadsheet for estimating your own new home construction building costs.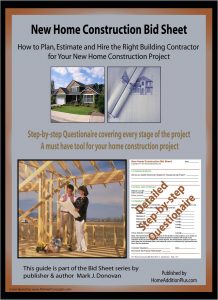 Related Information Electrical Wiring and Electrical Circuit Testers
---
Additional Electrical Wiring Resources from Amazon.com
---
Free Home Addition Price Quotes with No Obligation!
Fill out our 3-5 minute quick and easy form, and receive a free price quote on a house addition from one of our prescreened and licensed home addition contractors. This process is free and there is no obligation to continue once you receive your house addition price estimate.