A Process Guide to a Small Master Bathroom Remodeling Project/strong>
By Mark J. Donovan







One of the nice advantages of remodeling a small master bathroom is that the bathroom remodeling costs are not exorbitantly high.

Bathroom remodeling projects traditionally have a high return on investment and consequently remodeling a small master bathroom is a great way to increase the value of your home without breaking the bank.

The best way to start a small master bathroom remodeling project is to first develop a plan that describes your master bathroom remodeling goals and objectives.
For example, do you have visions of installing a custom ceramic tile shower, replacing the bathroom vanity, tiling the floor, etc. Once you have developed a complete list of the features you want to include in your small master bathroom remodeling project, you can then begin to determine your bathroom remodeling costs.
Another advantage of a small master bathroom remodeling project is the fact that you can elect to do it yourself, or at least portions of it.

In addition, since there is typically another bathroom in the home, and probably on the same floor level, you can complete a small master bathroom remodeling project on a relaxed time schedule.
After developing a master bathroom remodeling plan and determining your bathroom remodeling costs you can then begin the actual remodeling process.
Renovating Shower/Tub Area
The first step in the actual bathroom remodeling process is the demolition phase. If the demolition is done smartly, you can actually continue to use portions of the bathroom throughout the master bathroom remodeling process. For example, if your bathroom remodeling plans include renovating the old shower tile, you can replace all of the old shower ceramic wall tile and backer board, while leaving the rest of the bathroom intact and functional.
When renovating your shower/tub area make sure to check into the latest tub/shower plumbing fixtures. There are numerous styles and features to choose from today.

Some shower spray solutions to consider include: installing multiple shower sprays on walls and even the ceiling, hand held shower spray units, and slide bars so that the shower spray nozzle can be adjusted to your specific height requirements.

Install Ceramic Tile Floor

Once the shower renovation is complete, you can then move on to removing the old bathroom vanity and toilet and installing a new ceramic tile floor, while still having the shower operational.

Use this Bathroom Remodeling Bid Sheet and Save Money and Time on your Bathroom Remodel
Re-Installing the Toilet
After installing the new ceramic tile floor in the bathroom, you can then very easily reinstall the toilet, if you plan to use this existing one. Just remember to use a new toilet wax ring when re-installing the toilet. Learn how to install a toilet here.
Installing the New Bathroom Vanity, Countertop and Sink
With the shower and toilet operational, you can then move on to replacing the bathroom vanity, countertop and sink. If you planned your small master bathroom remodeling project properly, you will have ordered the replacement bathroom vanity, countertop and sink well in advance so that they are on the jobsite when you are ready to install them.
Installing Bathroom Accessories (Lights, Mirrors, Baseboard Trim and Window Treatments)

After installing the new bathroom vanity, countertop and sink, you should be able to have all of the fundamental bathroom fixtures working in your bathroom. From there, you can then move on to the more cosmetic type bathroom remodeling tasks, such as installing new baseboard trim, a new bathroom mirror, new bathroom light fixtures and even new window treatments.
Consider Installing Crown Molding
A small master bathroom is also a great space to include crown molding. If you have never installed crowned molding see HomeAdditionPlus.com's "Installing Crown Molding Ebook". It includes detailed instructions and pictures for every step in the process of installing crown molding. A small room, such as a master bathroom is an ideal room for a first time crown molding project.
Painting and Throw Rugs
Finally you can paint the bathroom walls, lay in the new throw new rugs where desired, and add wall coverings to complete your small master bathroom remodeling project.
---
For help on your bathroom remodeling project, see my Bathroom Remodeling Bid Sheet. The Bathroom Remodeling Bid Sheet provides a request for quote checklist section that you can provide to prospective bathroom remodeling contractors. It also includes a comprehensive bathroom remodeling cost breakdown table, in Microsoft Excel format, that allows the contractor to include his projected remodeling costs for every phase of the project.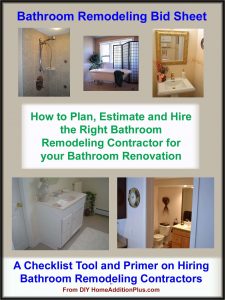 Related Information on Bathroom Remodeling
---
Additional Bathroom Remodeling Design Resources
---
Get Free Bathroom Remodeling Price Quotes with No Obligation!
Fill out our 3-5 minute quick and easy form, and receive a free price quote on bathroom remodeling from one of our prescreened and licensed bathroom remodeling contractors. This process is free and there is no obligation to continue once you receive your bathroom renovation price estimate.