How to Repair Cracks in Foundations to Ensure a Dry Basement
By Mark J. Donovan







If considering finishing your basement, the first thing that you need to do is to take a close look at your home's basement foundation walls and floors.

It's important to identify and repair all foundation cracks, as well as any basement floor cracks, prior to undertaking a basement remodeling project.

If you elect not to inspect and make the necessary foundation crack repairs you're putting your basement remodeling investment at major risk. 
Water Leaks in Basement
Water leaks and high moisture levels in a finished basement inevitably will cost you time, money, and heartache. In addition, the mold and mildew growth that will inevitably grow in the basement can become a major health hazard to you and your family.
Foundation cracks are a very common occurrence. They're due for a variety of reasons. Chief among them is the home naturally settling over time, and concrete shrinkage during the curing process. In many cases house settling can be significantly prevented with good up-front soil study and foundation construction.
However for many homes, contractors take short cuts during the foundation installation that lead to the foundation cracks, e.g. inadequate and/or unpacked gravel for the footings. With concrete curing, shrinkage is a normal part of the process.




However, with proper preparation and installation of the concrete, and the use of rebar, foundation cracks should be minimal.

After identifying foundation cracks, it is important that they be repaired prior to starting your basement remodeling project.

Homeowners can make their own DIY foundation crack repairs if they are minor dry cracks observed only on the inside of the foundation walls.

 
Foundation Crack Repair Products
A polyurethane foam injection system or simply a tube of concrete filler made from some type of epoxy can be used to seal the foundation cracks. If the foundation cracks show signs of water penetration then hydraulic cement is necessary.
Hydraulic cement is sold in a dry powder form. To use it, simply add water to the manufacturer's recommendations, stir it up, and apply it to the hairline foundation cracks.
If the foundation cracks penetrate all the way through the foundation wall then you most likely will need to call in the professionals.
For these types of foundation crack repairs the soil will need to be excavated away from foundation walls to make the repairs.

Once the exterior foundation walls have been thoroughly cleaned and have had time to dry, hydraulic cement or a similar foundation crack repair sealer can be used to repair the foundation cracks.
If after excavating the soil from around the foundation it is determined that there are significant structural issues with the foundation, then an engineer may need to be called in to come up with a solution that will repair the foundation and prevent it from further cracking and settling.
For more help on Basement Additions, see HomeAdditionPlus.com's Basement Remodeling Bid sheet. The Basement Remodeling Bid Sheet will help ensure that your hire the right contractor so that your basement remodeling project is done correctly and you get the project finished on time and budget.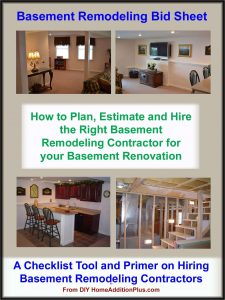 Related Information on DIY Foundation Crack Repair and Basements
---
Get Free Basement Remodeling Price Quotes with No Obligation!
Fill out our 3-5 minute quick and easy form, and receive a free price quote on basement remodeling from one of our prescreened and licensed basement remodeling contractors. This process is free and there is no obligation to continue once you receive your basement remodeling price estimate.