Learn How to Build a Fire Pit using Concrete Pavers in this Video
By Mark J. Donovan







In this video Mark Donovan of HomeAdditionPlus.com shows how to make a fire pit using concrete pavers.

Enjoying a camp fire on a weekend evening at our lake home is always a great way to relax and enjoy the company of our family and friends.

Typically we end up all sitting around the fire pit telling stories, roasting marshmallows and making S'mores. On occasion we also light up some sparklers and fireworks.
Lighting a campfire takes some responsibility, however. First, you need to get a camp fire permit from the fire department.
Second, you need to build a fire pit that is safe and will prevent the fire from spreading. Getting the permit is easy, however to make a fire pit of decent quality takes a little know how and some physical effort.
To build a fire pit I like to use concrete pavers. A fire pit constructed out of concrete pavers not only looks nice, it is also functionally very sound.

The concrete pavers make a tight and neat fire pit but also allows a bit of air to slip in through the joints to allow the fire to get sufficient oxygen.

To make a fire pit I start by removing the top soil from the fire pit area using a shovel.
In the video associated with this article (see above), I needed to dig down only a few inches before I got to gravel. Based on the type of concrete pavers I chose for my fire pit I cleared a circular area that was approximately 50 inches in diameter.
Once at gravel level I leveled out the hole using a large 2×6. Then I poured coarse paver sand into the hole approximately 1/2 inch thick and tamped and leveled it down with the 2×6. I also put a level on top of the 2×6 to make sure the area was level.
Then I placed my first coarse of concrete pavers in a circle in the dugout area. After placing the first coarse of concrete pavers, I again used my level to make sure they were level.

I then added a second coarse of concrete pavers to the fire pit, making sure this second row of pavers were offset from the first row by a half a paver width in diameter. Basically I centered a paver on the second row directly over the seam of two adjoining concrete pavers on the first row. I then proceeded to install the second coarse of pavers around the fire pit.
To complete the job of making a fire pit, I poured some paver sand around the perimeter of the fire pit, right next to the concrete pavers. To dress up the fire pit area, I then raked in a little mulch around the fire pit.
And that's all there is to it to building a fire pit using concrete pavers. It cost about $100 for the pavers and paver sand and took about 2 hours to complete. Not bad for a DIY outdoor project!
---
Dress Up Your Home's Exterior with an Arbor – If you've always wondered what to do about a side door entrance to your house or garage to make it more appealing, or just wanted to simply spice up the backyard, building an arbor may be your answer. The "How to Build an Arbor Ebook" provides detailed, step-by-step instructions and pictures on how to build an entrance-way arbor for your home. Order and Immediately Download today!. 100% Money-Back Guarantee if you are not satisfied.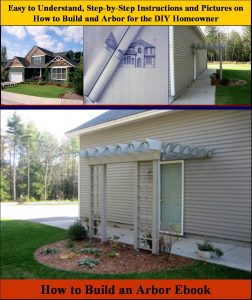 Planning to have a Brick or Paver Walkway Installed by a Landscaping Contractor but not sure what questions to ask to ensure you hire the right one? See HomeAdditionPlus.com's Brick and Paver Walkway Bid Sheet. The Brick and Paver Walkway Bid Sheet will help ensure that your walkway project goes smoothly and you get the finished walkway you are looking for.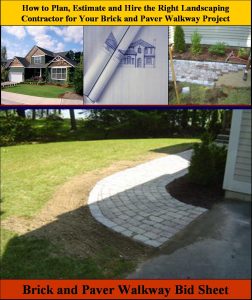 Related Information
---
Additional Landscaping Resources from Amazon.com
---
Free Home Addition Price Quotes with No Obligation!
Fill out our 3-5 minute quick and easy form, and receive a free price quote on a house addition from one of our prescreened and licensed home addition contractors. This process is free and there is no obligation to continue once you receive your house addition price estimate.