Three Fence Types to Consider Installing in your Yard
By Mark J. Donovan







So you're thinking about installing a fence in your backyard. There a number of fence types to choose from today. When choosing a fence to install you need to consider what the main reason is for the fence. For example, is it for enclosing a pool, or is it for privacy, or is it for aesthetics, or for simply keeping the children or pets confined to an area in the backyard. By first understanding the purpose of the fence you can then choose the most appropriate style fence for your situation.

Aluminum Fences

If you want a rugged high quality fence, an aluminum fence is your ticket. Aluminum fences are aesthetically very attractive, are highly corrosion resistant, and very functional.
They won't rust and are virtually maintenance free. In addition, due to how the paint color is applied to the aluminum fencing, there is never a concern of chipping or peeling paint.
Aluminum fences are ideal for enclosing pools and for keeping in pets. They come in numerous styles and designs, so there is a fence type for even the most finicky of fence shoppers. They are a bit pricey however, so plan to dish out a little more money than other fence types.

Wrought Iron Fences

These days new wrought iron fences are often used to enclose pools. They're also more commonly found encompassing yards of high end residential property.
Besides providing a classic and sophisticated look, wrought iron fences are considered heavy duty fences. Consequently they are ideal for security reasons. The only real downside with wrought iron fences, other than the fact that they are very expensive, is that they can rust over time. As a result, they need periodic maintenance to keep them looking like new.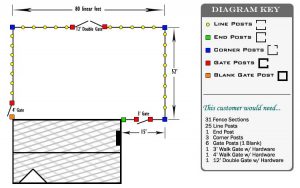 Vinyl Fences
Vinyl fences are the most commonly installed fence today. They can provide both security and privacy, and come in various sizes, styles and colors. They are often used today for enclosing pools, patios, and backyards. One of the main attributes of vinyl fencing is that it is maintenance free. It will not weather, rust, or fade, though it can crack if hit hard, particularly if it is hit hard in colder weather. Vinyl fencing is also the most economical of fencing materials, relative to the other two fence types listed in this article.
So again, before buying and installing a new fence, first make sure you know the main purpose of the fence. After you've come to a conclusion on its main purpose, you can then better choose the appropriate fence to install.
---
Dress Up Your Home's Exterior with an Arbor – If you've always wondered what to do about a side door entrance to your house or garage to make it more appealing, or just wanted to simply spice up the backyard, building an arbor may be your answer. The "How to Build an Arbor Ebook" provides detailed, step-by-step instructions and pictures on how to build an entrance-way arbor for your home. Order and Immediately Download today!. 100% Money-Back Guarantee if you are not satisfied.
Planning to have a Brick or Paver Walkway Installed by a Landscaping Contractor but not sure what questions to ask to ensure you hire the right one? See HomeAdditionPlus.com's Brick and Paver Walkway Bid Sheet. The Brick and Paver Walkway Bid Sheet will help ensure that your walkway project goes smoothly and you get the finished walkway you are looking for.
---
Additional Landscaping Resources from Amazon.com
---
Free Home Addition Price Quotes with No Obligation!
Fill out our 3-5 minute quick and easy form, and receive a free price quote on a house addition from one of our prescreened and licensed home addition contractors. This process is free and there is no obligation to continue once you receive your house addition price estimate.