The Correct Order for Tiling a Shower Floor and Walls
By Mark J. Donovan







Question: – Mark, I am about to tile my shower and am in the process of learning how. I watched your video on

how to tile a shower

and saw that you tiled the shower walls first.

When tiling shower walls and floors do you always tile the shower walls first and the shower floor last?

I guess I had just assumed you would do the floor first. I'm glad I watched your video on youtube.
Answer: – R.H., Glad to hear your doing your homework first before tiling your shower. In regards to how to tile a shower floor and walls, first and foremost it is imperative that tiling a shower needs to be done right the first time to prevent leaks and to achieve a professional look.
Too often I hear from site visitors about leaky tile shower pans, or wide grout lines, or unsightly seams.
To answer your question, yes I always tile shower walls first, and the shower floor last. I do this for two main reasons. See my video on how to tile a shower floor and curb.
First, if you tile the shower floor first you're bound to spill mortar and possibly even drop a tile on it, which could result in a broken shower floor tile.




Yes, you can cover the shower floor with a drop cloth or piece of cardboard, but inevitably you wind up finding pieces of dried mortar stuck in between shower floor tiles if you install them first.

Removing spilled and dried mortar from the shower floor is not fun and takes time.

Find a local tiling contractor here.

Second, I always install a temporary ledger board near the bottom of the shower walls to make sure the wall tiles are applied level and straight. 
I set the ledger board at the start of the second row of shower wall tiles.
I do this because the shower floor may not always be perfectly straight and level near the wall edges. As a result, often you may end up with some cut tiles near the bottom edge, next to the shower floor.
Once I have tiled the shower walls, less the bottom row, I then remove the ledger board. After removing the ledger board I tile the bottom row of shower wall tiles, trimming their lower sides as necessary to conform to the contour of the shower pan. Once the shower walls are installed I move on to tiling the shower floor.
By installing shower walls tiles first and the shower floor tiles last I bury the bottom row of cut tiles and possible wall tile seam imperfections.
---
For information on installing a shower pan membrane liner for a ceramic tile shower, see the Shower Pan Membrane Liner Installation Ebook from HomeAdditionPlus.com.  The Shower Pan Membrane Liner EBook will quickly teach you the step-by-step process for installing the shower pan membrane liner correctly. It includes instructions on framing the shower stall, pouring the pre-slope and shower base mortar, and installing the shower pan membrane liner.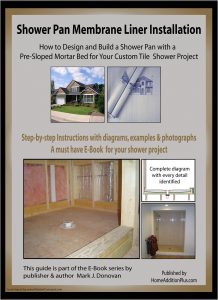 See HomeAdditionPlus.com's Ceramic Tile Calculator
See my "How to Tile a Custom Ceramic Tile Shower" Ebook to learn how to tile your own shower:  For a detailed set of instructions on tiling a shower floor and walls, including pictures for every step in the process, see my "How to Tile Custom Ceramic Tile Shower Ebook".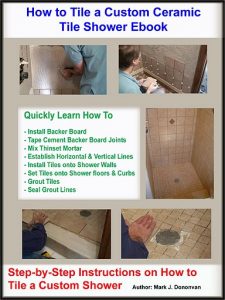 Related Information on How to Tile a Shower Floor and Walls
---
Additional Ceramic Tile Resources from Amazon.com
---
Get Free Bathroom Remodeling Price Quotes with No Obligation!
Fill out our 3-5 minute quick and easy form, and receive a free price quote on a bathroom remodeling project from one of our pre-screened and licensed bathroom remodeling contractors. This process is free and there is no obligation to continue once you receive your bathroom addition price estimate.