The Installation of a New Gas Fireplace Insert with a Natural Stone Veneer Surround
By Mark J. Donovan







One of the best returns on investment home improvement projects these days is the use of stone veneer in certain areas of the house.

We recently decided to, for example, to replace the fireplace surround around our built-in gas fireplace with a natural stone veneer.

Other particularly popular areas inside the home to use stone veneer include; kitchens, bathrooms, and great rooms.
Manufactured Stone Veneer

When it comes to deciding on using stone veneer you first need to decide if you are going to use faux stone veneer, or otherwise called manufactured stone veneer, or natural stone veneer.
Faux, or manufactured stone veneer, is designed to look just like natural stone, but it is less costly. Manufactured stone veneer is made out of a combination of lava rock, Portland cement, and color pigments containing iron oxide. The materials are then placed in a latex mold, representing a particular type of color of stone found naturally, and are allowed to cure.
Due to this type of manufacturing process virtually any type and color of stone can be produced that represents what can be quarried or picked from fields and rivers. For example, faux stones can be manufactured to look like grapefruit size river rocks.
Natural Stone Veneer


Natural veneer stone, as the name implies, is real stone that has simply been cut into thin slices approximately one inch thick.

The stone is typically harvested from a quarry, however, rocks can also be obtained from fields and rivers and then cut to the specific needs for the stone veneer project.


Our Natural Stone Veneer Fireplace Choice

For our natural stone veneer fireplace, we chose to go with the natural veneer stone, because faux stone simply stated still looks a bit fake, and is hollow sounding to the tap. 
Yes, the manufactured stone would have been less costly, and would probably give us an even higher return on investment, but the physical difference between faux and real veneer stone was just simply too great to skimp on price.
We looked through several stone veneer supplier catalogues, and decided on Delgado Stone's Strip Stone Connecticut Blend. The stones are approximately 1 inch thick, +/-1/4 inch, and are about 3"-5" wide, and up to about 16 inches in length.

Cost of Installation for Natural Stone Veneer Fireplace


I went out and obtained three mason contractor quotes before choosing one. Two masons came in with quotes around $85/square foot. This price included the natural stone veneer cost, as well as the mason's labor rate.





The third mason came in at $97/square foot. The reason for the large discrepancy was due to the fact that the third mason had no interest in also applying the natural stone veneer to the chimney chase on the outside of our house.
The chimney chase is on a steep pitched roof and extends an additional ten feet above the roof. Quite high. So high as a matter of fact that significant scaffolding had to be erected to enable the mason to stone veneer the chimney fireplace chase.


As you can see in the picture we still need to get the mantle and hearth installed. They are on order, and we should have them in another week. Also, I will need to install some trim vertically down the sides of the stone veneer fireplace when the mantle is finally installed.
Lastly, we need to call back in the gas fireplace company to complete the installation of the new fireplace. Oh yeah, we decided to upgrade to a new and larger fireplace too, which set us back about another $8,000. Part of the scam today with installing a new gas fireplace is that it is virtually assured that the existing stainless-steel piping with the older gas fireplace insert will not be the right one for the new gas fireplace insert.

In the end, with the new stone veneer fireplace surround, as well as the stone veneer chimney chase, and the new gas fireplace insert, we anticipate it will cost a total of around $20,000 to complete the project. It is not cheap, however, due to the fact we live on a lake home in central New Hampshire, we anticipate future prospective home buyers will highly value the natural stone fireplace look, both inside and outside of the home.
---
For information on installing a shower pan membrane liner for a ceramic tile shower, see the Shower Pan Membrane Liner Installation Ebook from HomeAdditionPlus.com.  The Shower Pan Membrane Liner EBook will quickly teach you the step-by-step process for installing the shower pan membrane liner correctly. It includes instructions on framing the shower stall, pouring the pre-slope and shower base mortar, and installing the shower pan membrane liner.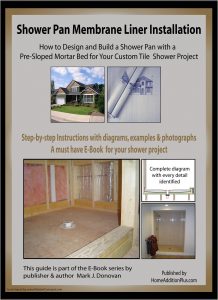 See HomeAdditionPlus.com's Ceramic Tile Calculator
See my "How to Tile a Custom Ceramic Tile Shower" Ebook to learn how to tile your own shower:  For a detailed set of instructions on tiling a shower floor and walls, including pictures for every step in the process, see my "How to Tile Custom Ceramic Tile Shower Ebook".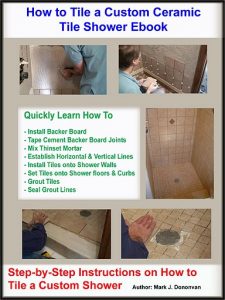 Related Information
---
Additional Ceramic Tile Resources from Amazon.com
---
Get Free Kitchen Remodeling Price Quotes with No Obligation!
Fill out our 3-5 minute quick and easy form, and receive a free price quote on a kitchen remodeling project from one of our pre-screened and licensed kitchen remodeling contractors. This process is free and there is no obligation to continue once you receive your kitchen remodel price estimate.