Shower Liners are used in Ceramic Tile Showers to Prevent Leaks
By Mark J. Donovan







Mortar bed shower liners play a crucial role in shedding water from a shower floor, and directing it towards the shower drain.

Contrary to what some may think a ceramic tile floor is not impervious to water.

Water can easily leach through grout lines. If left unchecked, water on a ceramic tile shower floor would continue to work its way downwards, through the grout lines, on to wood subfloors and lower level ceilings.
A waterproof mortar bed shower liner prevents this from occurring, by stopping and directing the water to the shower drain.
A mortar bed shower liner, as the name implies, is constructed out of mortar. In addition, there is a flexible shower pan membrane liner that is sandwiched in between the mortar.
To be more specific a mortar bed shower liner is comprised of two layers of mortar. First a pre-slope mortar bed is installed such that it creates a gentle slope towards the shower drain. A flexible shower pan membrane liner is then installed on top of the pre-slope.
A final layer of mortar, known as the base layer, is then poured over the membrane liner to create the finished mortar bed shower liner. Ceramic tile can then be installed over the mortar.

Installing a mortar bed shower liner can be a little tricky, however handy do-it-yourself homeowners can tackle this type of project with a little upfront knowledge. Creating the proper pre-slope requires a bit of math and art skills. In addition, folding and fastening the flexible shower pan into place can involve some origami skills.

If done properly, however, a mortar bed shower liner works extremely well and will last indefinitely.
Mortar bed shower liners can also be designed for all shower stall shapes and sizes. They can even be constructed to support shower seats.
When it comes to selecting the type of flexible shower membrane liner material to use, you have basically two choices. Your first choice is a waterproof membrane liner that is constructed out of Chlorinated Polyethylene (CPE).
It is a malleable and flexible plastic material that can easily be molded into shape. It also holds its shape well after folding it. A CPE shower membrane liner is the most commonly used liner material in ceramic tile showers.

Your second choice for a flexible shower liner is constructed out of Polyvinyl Chloride (PVC). It is a more rugged material than CPE, however it is more difficult to work with, as it is stiffer and tougher to mold into shape.
You can typically find either of these shower pan membrane liners at any home improvement store.
So if you are considering installing a ceramic tile shower, make sure to install a mortar bed shower liner first.
Without it, your ceramic tile shower will undoubtedly leak and cause water damage in your home.
---
For information on installing a shower pan membrane liner for a ceramic tile shower, see the Shower Pan Membrane Liner Installation Ebook from HomeAdditionPlus.com.  The Shower Pan Membrane Liner EBook will quickly teach you the step-by-step process for installing the shower pan membrane liner correctly. It includes instructions on framing the shower stall, pouring the pre-slope and shower base mortar, and installing the shower pan membrane liner.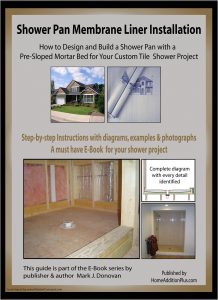 See HomeAdditionPlus.com's Ceramic Tile Calculator
See my "How to Tile a Custom Ceramic Tile Shower" Ebook to learn how to tile your own shower:  For a detailed set of instructions on tiling a shower floor and walls, including pictures for every step in the process, see my "How to Tile Custom Ceramic Tile Shower Ebook".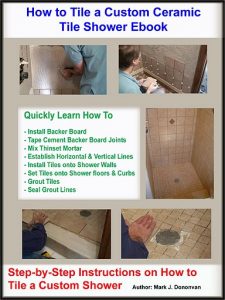 Related Information on Installing Mortar Bed Shower Liners
---
Additional Ceramic Tile Resources from Amazon.com
---
Get Free Bathroom Remodeling Price Quotes with No Obligation!
Fill out our 3-5 minute quick and easy form, and receive a free price quote on a bathroom remodeling project from one of our pre-screened and licensed bathroom remodeling contractors. This process is free and there is no obligation to continue once you receive your bathroom addition price estimate.