Key Features to Look for when Buying a Wet Saw
By Mark J. Donovan







If you are planning a kitchen or bathroom remodeling project where you intend to install your own ceramic tile, consider buying a wet table ceramic tile saw.

A wet saw is well worth the investment, as they are reasonably affordable and can produce a much more professional result in a shorter period of time.

If alternatively you prefer not to buy one, then at least consider renting one.
You will probably wind up saving money in the end just by having less ceramic tile breakage.
Wet table ceramic tile saws, are great for making both long straight cuts and mitered cuts. They can also be used for making more intricate cuts that nippers normally would be used on, however unlike with nippers you will have a lot less breakage.
Wet saws come in a variety of blade sizes, including 4 1/2", 7", and 10" blades. For most do it yourself projects a 7" blade wet saw is appropriate.
Wet table ceramic tile saws usually are powered by a direct drive motor that turns a diamond studded blade. A small pan sits underneath the table. This pan holds a small reservoir of water that the blade rotates through, thus cooling the blade as it cuts. Cooling the blade results in a much cleaner cut and protects the motor from binding up and being damaged.
Another key attribute associated with the motor is the rotational speed of the motor/blade. When buying a wet saw check for the blade rotation speed.

Typically the blade choices operate from around 3400 revolutions per minute (rpm) to 5500 rpm. For most do-it-yourselfers, a 3600 rpm saw speed is sufficient.

Another important specification associated with the motor is the horsepower (hp) rating. The horsepower not only dictates the speed of the blade, but also the torque of it, which is important when cutting through large, thick ceramic tiles.



When looking for a ceramic tile wet saw make sure you choose one that has the power to handle your unique ceramic tile project. Smaller, lighter weight units typically have motors with 1/3 hp. The larger saws typically have ½ hp capability. I personally prefer the beefier ½ hp types.
Also when selecting a ceramic tile wet saw, make sure that the blade can be adjusted to make both beveled and mitered cuts.
Most do, however it is good to check. Basically the thermal overload protection feature helps to protect the motor from overheating and potentially being damaged. 
With direct drive motors, if too much torque is applied to them for too long of a period of time they can seize and burn out.

Finally consider the warranty when buying a wet saw. I would look for ones that have at least a 1 year warranty.

Again, whether you choose to buy or rent a ceramic tile wet saw, you will find they will make much shorter work of your ceramic tile job and will save you money and hassle in the end.





One last word on safety: Always use safety glasses when cutting ceramic tile. Though all wet saws have a protective shield covering the blade, a single sharp loose ceramic tile chip can do severe damage to your eye.
---
For information on installing a shower pan membrane liner for a ceramic tile shower, see the Shower Pan Membrane Liner Installation Ebook from HomeAdditionPlus.com.  The Shower Pan Membrane Liner EBook will quickly teach you the step-by-step process for installing the shower pan membrane liner correctly. It includes instructions on framing the shower stall, pouring the pre-slope and shower base mortar, and installing the shower pan membrane liner.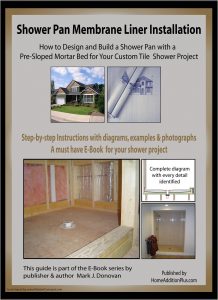 See HomeAdditionPlus.com's Ceramic Tile Calculator
See my "How to Tile a Custom Ceramic Tile Shower" Ebook to learn how to tile your own shower:  For a detailed set of instructions on tiling a shower floor and walls, including pictures for every step in the process, see my "How to Tile Custom Ceramic Tile Shower Ebook".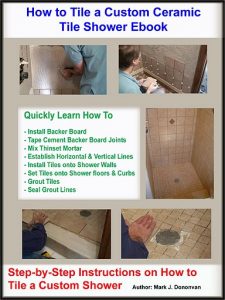 Related Information
---
Additional Ceramic Tile Resources from Amazon.com
---
Get Free Basement Remodeling Price Quotes with No Obligation!
Fill out our 3-5 minute quick and easy form, and receive a free price quote on basement remodeling from one of our prescreened and licensed basement remodeling contractors. This process is free and there is no obligation to continue once you receive your basement remodeling price estimate.