Using Self Leveling Compounds for Tiling
By Mark J. Donovan







For ceramic floor tile to stand the test of time, it is imperative that it be installed on a level and rigid subfloor. Leveling compounds are a solution to smoothing out a subfloor surface prior to installing the ceramic floor tile.

Typically, when preparing a floor for the installation of ceramic floor tile, additional material is installed over the home's existing base subfloor.

The existing subfloor is normally constructed out of 3/4th inch plywood, OSB, or concrete.
Usually concrete, mortar, backerboard, or exterior plywood is added to the base subfloor to increase the rigidity of the floor surface. The more level and rigid the floor, the less likelihood of the ceramic tiles cracking.
To ensure that the floor surface is rigid and level, sometimes a leveling compound needs to be added to the floor to fill in any dips, or to compensate for humps in the floor. Dips and humps can occur due to imperfections in the floor joists or concrete slab. Leveling compounds are cement based and are easy to apply. They will adhere well to both wood and concrete subfloors.
Before applying a leveling compound to your subfloor, make sure the subfloor is absolutely clean and free of any dust. Otherwise you may not get a proper bond between the leveling compound and the subfloor.

To apply leveling compounds, you can use a broad knife, trowel and/or a length of 2×4.
To see how much leveling compound you will need for your project, use the length of 2×4, and run it over the surface of the subfloor to see how much of a dip(s) or hump(s) you have to contend with.
Leveling compounds set up fast, so make up small batches at a time. Do not try to make up one batch to fill in all of your subfloor's dips and humps at once.
---
For information on installing a shower pan membrane liner for a ceramic tile shower, see the Shower Pan Membrane Liner Installation Ebook from HomeAdditionPlus.com.  The Shower Pan Membrane Liner EBook will quickly teach you the step-by-step process for installing the shower pan membrane liner correctly. It includes instructions on framing the shower stall, pouring the pre-slope and shower base mortar, and installing the shower pan membrane liner.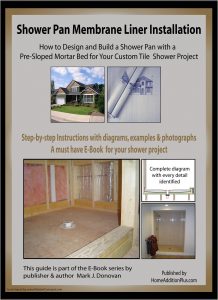 See HomeAdditionPlus.com's Ceramic Tile Calculator
See my "How to Tile a Custom Ceramic Tile Shower" Ebook to learn how to tile your own shower:  For a detailed set of instructions on tiling a shower floor and walls, including pictures for every step in the process, see my "How to Tile Custom Ceramic Tile Shower Ebook".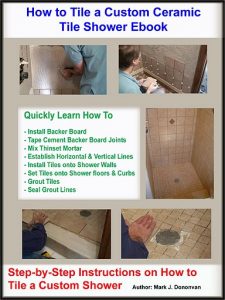 Related Information Self Leveling Compounds for Tiling
---
Additional Ceramic Tile Resources from Amazon.com
---
Get Free Bathroom Remodeling Price Quotes with No Obligation!
Fill out our 3-5 minute quick and easy form, and receive a free price quote on a bathroom remodeling project from one of our pre-screened and licensed bathroom remodeling contractors. This process is free and there is no obligation to continue once you receive your bathroom addition price estimate.