A Shower Pan Membrane liner is at the Heart of a Leak Free Custom Ceramic Tile Shower
By Mark J. Donovan







Constructing a masonry ceramic tile shower pan can be done by a do-it-yourself inclined homeowner, however some up front research and knowledge is necessary to ensure a leak proof shower pan.

The Shower Pan Membrane Liner

At the heart of a ceramic tile shower pan is a shower pan membrane liner. The shower pan membrane liner is a thin flexible sheet of vinyl material that is sandwiched between two layers of concrete mortar. 
Ceramic tile can then be installed over the top layer of mortar to complete the ceramic tile shower pan.

Mortar Shower Pan's Pre-Sloped Layer
The first step in creating a masonry shower pan is to create a pre-sloped masonry bed within the shower stall area. The masonry pre-slope should be constructed so that water flows towards the shower drain. This is accomplished by installing a layer of mortar in the shower stall and then using a trowel to slope the mortar up and away from the shower drain.
Installing Shower Pan Membrane Liner

After the pre-slope mortar has cured, the flexible vinyl shower pan membrane liner is installed.

The shower pan membrane liner is folded and stapled or nailed to the sides of the shower frame, approximately 6- 8 inches up the side of the shower stall.

In addition, a hole is cut in the shower membrane liner over the shower drain to allow the adjustable drain assembly to protrude above the shower membrane liner.

With the shower membrane liner folded and tacked into place, another layer of mortar can then be applied on top of the shower membrane liner.

This Shower Pan Membrane Liner eBook provides detailed instructions and pictures on how to Install a Mortar Shower Pan correctly.
Once the shower pan masonry work is complete, cementitious ceramic tile backerboard can then be installed on the shower frame walls.
Tile backerboard is a rigid type of wall board that is used for sheathing shower stall areas and for supporting ceramic tile.

With the backerboard installed, ceramic tile can then be installed on the shower walls and floors.

After the ceramic tile and grout have been installed, the shower drain assembly should be adjusted so that the drain height sits flush with the finished ceramic tile shower floor.
---
For information on installing a shower pan membrane liner for a ceramic tile shower, see the Shower Pan Membrane Liner Installation Ebook from HomeAdditionPlus.com.  The Shower Pan Membrane Liner EBook will quickly teach you the step-by-step process for installing the shower pan membrane liner correctly. It includes instructions on framing the shower stall, pouring the pre-slope and shower base mortar, and installing the shower pan membrane liner.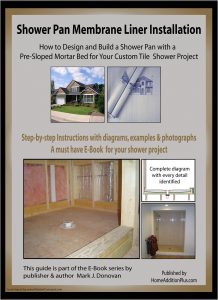 See HomeAdditionPlus.com's Ceramic Tile Calculator
See my "How to Tile a Custom Ceramic Tile Shower" Ebook to learn how to tile your own shower:  For a detailed set of instructions on tiling a shower floor and walls, including pictures for every step in the process, see my "How to Tile Custom Ceramic Tile Shower Ebook".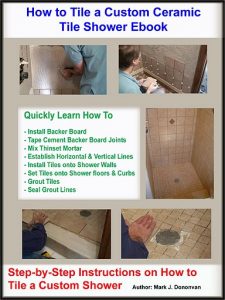 Related Information
---
Additional Ceramic Tile Resources from Amazon.com
---
Get Free Bathroom Remodeling Price Quotes with No Obligation!
Fill out our 3-5 minute quick and easy form, and receive a free price quote on a bathroom remodeling project from one of our pre-screened and licensed bathroom remodeling contractors. This process is free and there is no obligation to continue once you receive your bathroom addition price estimate.