Why and How to Back Butter Tiles
By Mark J. Donovan







The back buttering of tiles is a process of filling in the voids on the back of the tile with thinset mortar prior to setting the tile into place. There are a number of reasons for back buttering tiles. Whenever possible, however, it is preferable to apply the thinset mortar directly to the substrate material and to then place the non-back buttered tile into the thinset mortar.

One reason for back buttering tiles is that it is not always easy to trowel thinset mortar into hard to reach places, such as under the edges of kitchen countertops.
Back buttering tiles that will be located in these hard to reach places eliminates the need for troweling thinset mortar onto the substrate in these difficult spaces. For this particular situation, it is best to use a notched trowel and to apply a liberal amount of thinset mortar to the back of the tile prior to placing it on the substrate. See how to properly mix thinset mortar here.
Back buttering of tiles is also commonly done when installing large tiles, e.g. 12"x12" or larger tiles, in order to ensure 100% coverage and to prevent any voids on the back of the tiles. For this particular situation, back buttering tiles involves applying a thin skim coat of thinset mortar to the back of the tile using the smooth edge of the notched trowel.

In addition, thinset mortar is troweled onto the substrate surface using the notched edge of the trowel. The back buttered tile is then set into the thinset mortared substrate.




Learn how to tile a shower with here.
Back buttering tiles is also done to avoid lippage between neighboring tiles. For example, if there is a situation where one tile sits higher than another it may be necessary to back butter the lower sitting tile to raise it to the height of the neighboring tile. This type of situation can commonly arise at backer board joints and taped seams.
Back buttering tiles is a time consuming process, and as already mentioned, it is preferable to apply thinset mortar to the substrate rather than the tile itself. Consequently, back buttering tiles should be done on a case by case basis.
---
For information on installing a shower pan membrane liner for a ceramic tile shower, see the Shower Pan Membrane Liner Installation Ebook from HomeAdditionPlus.com.  The Shower Pan Membrane Liner EBook will quickly teach you the step-by-step process for installing the shower pan membrane liner correctly. It includes instructions on framing the shower stall, pouring the pre-slope and shower base mortar, and installing the shower pan membrane liner.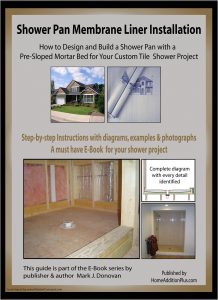 See HomeAdditionPlus.com's Ceramic Tile Calculator
See my "How to Tile a Custom Ceramic Tile Shower" Ebook to learn how to tile your own shower:  For a detailed set of instructions on tiling a shower floor and walls, including pictures for every step in the process, see my "How to Tile Custom Ceramic Tile Shower Ebook".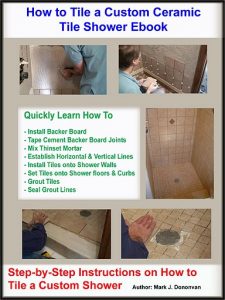 Related Information on Tiling
---
Additional Ceramic Tile Resources from Amazon.com
---
Get Free Basement Remodeling Price Quotes with No Obligation!
Fill out our 3-5 minute quick and easy form, and receive a free price quote on basement remodeling from one of our prescreened and licensed basement remodeling contractors. This process is free and there is no obligation to continue once you receive your basement remodeling price estimate.