Ice and Water Shield Protects Homes from Roof Water Penetration
By Mark J. Donovan







Ice and water shield roof underlayment is a type of material that is specially designed to protect homes with sloped roofs.

Ice and water shield membranes are ideal for climates where ice dams and wind driven rain can potentially work up and underneath roofing shingles.

In addition, ice and water shield roofing underlayment seals around roofing nails that hold roof shingles in place.
As a result, water that may work its way up and under roof shingles is prevented from reaching the roof sheathing.
Ice and water shield is a self adhering roof underlayment that is installed on the roof sheathing prior to installing the final roofing material, e.g. shingles, tiles or metal roofing.
It is typically installed near the bottom edge of the roof line, as well as in roof valleys and around chimneys and other roof protrusions.
Ice and water shield comes in 3' wide rolls of various lengths.

Some local building codes only require 3' of water shield around the roof eaves, however ice and water shield is relatively inexpensive compared to water damage in your home, so it is wise to install a second course.

Make sure you install the upper course last and that it overlaps the lower course by 3 inches to insure a perfect seal.
Also, make sure the lower course overlaps the top of the drip edge.
When installing ice and water shield roofing underlayment in valleys, make sure it extends up and out of the valleys by 18" on either side.
Also, when installing ice and water shield up against any intersecting walls or roof edges make sure it goes up the walls or roof edges by 4".

To actually install ice and water shield, simply peal the plastic backing off of it and lay it on the roof sheathing.

It is extremely sticky material and will adhere well to the roof sheathing in most cases. Roofing nails or staples are not necessary in most situations.

If installing during hot summer days you are best advised to install it in the early morning before the heat makes it so sticky that it is nearly impossible to handle.

Use this roofing installation checklist to save time and money on your roofing project.
If installing ice and water shield during cold weather you may need to use a few nails to hold it in place. However, use as few as possible.
---
For more help on Shingling Your Home's Roof, see HomeAdditionPlus.com's Asphalt Shingle Roofing Bid Sheet. The Asphalt Shingle Roofing Bid Sheet will help to ensure that your roof won't end up with a blue tarp over it and a dumpster sitting in your yard for weeks as you wait for the roofing contractor to come back and finish roofing your home.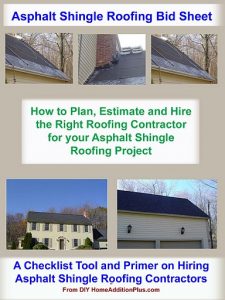 Asphalt Shingle Roofing Cost Estimator
---
Related Roofing Information
---
Additional Roofing Resources from Amazon.com
---
Roofing Price Quotes For FREE, No Obligation!
Fill out our 3-5 minute quick and easy form, and receive a free price quote on roofing from one of our prescreened and licensed roofing contractors. This process is free and there is no obligation to continue once you receive your roofing price estimate.