Roof Step Flashing Channels water down the Roof and Away from Vertical Walls
By Mark J. Donovan







Roof step flashing is used where a roof line runs into a vertical wall, such as the side of another part of the home, e.g. a dormer, or where a one story attached garage runs into the side of a two story home.

Roof step flashing is used to prevent roof water from entering the home, where it can lead to rot, mold and mildew problems.

Roof step flashing channels water away from the vertical wall and down the roof line.
Over time step flashing can become damaged or corroded. As a result, it is important to check your roof a couple of times a year to look for shingle and step flashing damage. When you find damaged step flashing it is vital that you repair it quickly to prevent water from entering the home.
To replace roof step flashing, you need a few basic tools, step flashing, and a ladder. You can buy step flashing as small flat metal sheets, or pre-bent to a 90o angle.
For tools and materials you will need a pair of tin slips, hammer, flatbar, work gloves, roof cement, and a few galvanized roofing nails. You may also need a few galvanized siding nails if you need to remove siding from the home.
Instead of removing the old step flashing, it is usually less effort to simply install a new piece over the old one.

The first step in installing new step flashing is to measure the length of flashing necessary and to cut it to length using your tins snips, if necessary. Make sure you wear work gloves when cutting metal flashing as it is extremely sharp.
After cutting the roof step flashing, bend it to form a 90o angle, if you bought the flat type step flashing.
Next, slide the vertical side of the flashing up and underneath the vertical wall home siding, while at the same time sliding the horizontal side up and underneath the adjacent roof shingle. Make sure you slide the horizontal side over the existing damaged step flashing. Use a little roof cement to hold it into place.
If you are unable to easily slide the piece of roof step flashing up and underneath the siding or shingles, you may need to remove a little of the house siding. In some cases, you may also need to remove a couple of shingles to get access to the old roof step flashing.
Once you have removed the necessary house siding and shingles, remove the old piece of step flashing.

Then slide the new step flashing into place, up underneath the shingle if it was not removed, and against the vertical wall.

Note that the flashing should go up the vertical wall by approximately 2 inches.

Fasten the step flashing to the vertical wall with one galvanized roofing nail.
Do not put any nails into the horizontal side of the flashing that is resting on the roof. Again, use a dab of roofing cement to hold the flashing up against the backside of the shingle and to seal any seams.
Finally, nail the house siding back onto the house and replace any removed shingles. Again, use a dab or two of roofing cement to hold the shingles flat against the roof.
---
For more help on Shingling Your Home's Roof, see HomeAdditionPlus.com's Asphalt Shingle Roofing Bid Sheet. The Asphalt Shingle Roofing Bid Sheet will help to ensure that your roof won't end up with a blue tarp over it and a dumpster sitting in your yard for weeks as you wait for the roofing contractor to come back and finish roofing your home.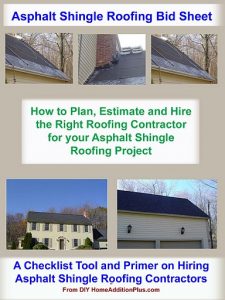 Asphalt Shingle Roofing Cost Estimator
---
Related Roofing Information
---
Additional Roofing Resources from Amazon.com
---
Roofing Price Quotes For FREE, No Obligation!
Fill out our 3-5 minute quick and easy form, and receive a free price quote on roofing from one of our prescreened and licensed roofing contractors. This process is free and there is no obligation to continue once you receive your roofing price estimate.