A Description of our New Lake Home on the Shores of Lake Winnipesaukee
By Mark J. Donovan







Last week my wife and I sold our lake home of 13 years and purchased a new one in its place. Both the old and new lake home are situated on the shores of Lake Winnipesaukee in New Hampshire.

Lake Winnipesaukee (a.k.a. the Big Lake) is the largest lake in New Hampshire. It is approximately 25 miles long and 6 miles across at its widest.

It is situated just south of the White Mountains / Sandwich Mountains, and north of the Belknap mountains.
Lake Winnipesaukee Tidbits
Lake Winnipesaukee and neighboring Squam Lake were both filmed in the award winning movie "On Golden Pond".
The movie "What about Bob" with Bill Murray was also about Lake Winnipesaukee but filming was done on another lake. Adam Sandler, from Manchester, New Hampshire has also mentioned Lake Winnipesaukee in a number of his movies.
Description of New Lake Home
Though our old lake home held strong sentimental value to us, and our children, we both agreed it was time to move on and find a new home that had more land and outdoor living space. Due to the limited size of the old lake house property there were few options for improving or even fully utilizing the property. The new lake home is situated on an acre of land and has 124 feet of water frontage, with gorgeous views of the lake and the Belknap Mountains.
Besides the main home, which was built in 1999, the new lake house property also has a detached 2 car garage and a small old bunk house. The waterfront includes a large and U-shaped dock. The dock is old and tired so it's one of my first areas of attention over the next year. I anticipate replacing it with a modern aluminum framed dock with cedar decking boards.
The main house is large and airy. It consists of nearly 4,000 square feet of finished living space and has a great room, along with a large kitchen that flows out into a four season sunroom.
The great room has a high vaulted ceiling with a catwalk on the upper level to one of the upper level bedrooms. There is a master bedroom suite on the first floor and three bedrooms upstairs. In addition, there is a large bonus room / office over the large 2 bay attached garage.
The kitchen includes a kitchen island, hardwood cabinets, and granite countertops along with the latest in stainless steel GE appliances. The kitchen, along with the main entrance and lower level hallway, include solid oak hardwood floors. Beautifully finished support columns are sprinkled throughout the lower level.
Off of the main entrance to the home is a large dining room area with a tray ceiling. Most likely we'll use this space to place our baby grand piano, since the kitchen has a large eating area adjacent to the kitchen island and sunroom area. Also off the main entrance is a short hallway to the master bedroom suite that includes a spacious master bath with Jacuzzi tub and separate shower, and a large closet / changing room area.
Down the first level hallway, and adjacent to the dining room, is a laundry room, followed by a doorway out to the attached garage, followed by a powder room.
At the far end of the lower level hallway is a stair case that leads to the upper level bedrooms and bonus room, along with 2 additional full bathrooms.
In the bonus room there is a pull down stair case to the attic. The attic is very large with high vaulted ceilings in it. Technically an additional room could be carved out of a portion of the attic, however I will unlikely choose to do this since there is so much existing space in the home.
Off the master bedroom suite and great room is a large deck that is approximately 40 feet in length and 12 to 14 feet in depth. Access to the deck is via a French style door where the great room and kitchen adjoin. There is also a French door off of the master suite to the deck.

The deck has no deck railing due to the fact that it sits less than 30 inches above the surrounding soil grade.

The decking is 2×6 pressure treated lumber that is stained a Seacoast Gray. 
Though the decking material and color is not necessarily my preferred choice the deck is sound and will last a few years until I get around to replacing it with something more aesthetically pleasing to our tastes.
Now that we've completed the actual move we are now beginning to flesh out the projects we've got planned for our new home, along with a timeline for doing them. So stay tuned to HomeAdditionPlus.com for the months and years ahead to see what we do for home improvements on our new lake home purchase.
---
For help on building a home addition, see HomeAdditionPlus.com's Home Addition Bid Sheets. Our Home Addition Bid Sheets provide you with the knowledge and information on how to plan a home addition project, and what to look for when hiring contractors. They also include detailed cost breakdown tables and spreadsheets for estimating your own new home addition building costs.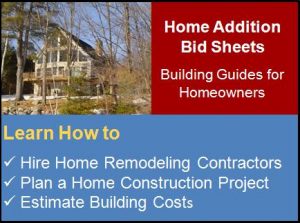 Related Information on Buying a Lake Home
---
Free Home Addition Price Quotes with No Obligation!
Fill out our 3-5 minute quick and easy form, and receive a free price quote on a house addition from one of our prescreened and licensed home addition contractors. This process is free and there is no obligation to continue once you receive your house addition price estimate.