Insuladd's Insulating Paint Additive is Simple to Use, Cost Effective and Mixes with any Paint Type
By Mark J. Donovan







The next time you plan to paint either the exterior or interior of your home ask your local paint store salesperson about including an insulating paint additive to your paint.

Insulating paint additives can be mixed in with any type of paint to provide a thermal radiant barrier to the exterior and interior walls and other surface areas of your home.

On a home's exterior, the insulating paint additives work by reflecting the sun's heat away from the home during the hot summer months.
And similarly, interior paints with insulating additives, help to keep the heat inside the home during the winter months.
As a result, the home maintains a more comfortable and consistent temperature and requires less energy to heat and cool it.
The company, Insuladd Environmental Products LTD, is one manufacture of insulating paint additives. They claim their insulating paint additive Insuladd®, can decrease heat intake into the home and reduce heat loss from the home by as much as 40 percent.
As the name suggests, insulating paint additives are simply added to the paint, prior to the application of it onto walls and other surfaces.

In regards to the Insuladd® product, the manufacturer suggests adding one bag of Insuladd® per gallon of paint. And again, they can be added to any type of paint.

In regards to how the insulating paint additive affects the color or texture of paint, the Insuladd® product is a white powder substance, and thus will not affect light color shades. 
However, with darker paint colors it can lighten up the color one shade lighter.
With respect to texture, it is not visible to the eye, however on smooth surfaces a slight texture can be felt when your hand is swept over the painted surface.
Insuladd Environmental Products LTD recommends applying two coats of paint with the Insuladd® product to maximize its insulating capabilities. Also, painted surfaces with the Insuladd® additive can be repainted at a later time with no issues.
Paints with insulating paint additives can be applied to surfaces with a brush, roller or sprayer. However, if a sprayer is used, the small cartridge filter in the sprayer should be removed to prevent spray nozzle clogging.
| | | |
| --- | --- | --- |
| Insuladd Environmental Products LTD Insuladd® product has been sold for over ten years, both in industrial and residential applications, and has undergone rigorous testing at various agencies including; the Climatic Test Branch of the U.S. Missile Command, the Korean National Construction Institute, and the Municipal Government and National Railroad in Tokyo. | | |
Besides its insulating value, Insuladd Environmental Products LTD states that Insuladd® also helps to reduce mildew growth on and in the home.
In regards to the cost of insulating paint additives, Insuladd Environmental Products LTD indicates that their product adds about 10 cents per square foot to the cost of the paint job, and that the extra cost can be recouped in as short as just a couple of years due to the reduction in home heating and cooling costs.
So if you want to make your home more energy efficient consider adding an insulating paint additive to your exterior or interior paint. The cost impact is minor, and again, you can expect to recover your costs within as little as two years.
Please Note: If you are interested in learning more about Insuladd, or purchasing it for your next residential painting project, make sure to visit Insuladd Environmental Products LTD's website. Per a conversation I had with their CEO, J.D. Pyle, there are a number of fraudulent companies out there who are selling fake Insuladd on Ebay.com and Amazon.com. As a matter of fact, he stated that 99% of the so-called Insuladd products that are being sold on Ebay or Amazon are fake. So to be sure that you obtain the real Insuladd product, Mr. Pyle recommends you purchase Insuladd directly from their website or from one of their authorized distributors.
---
See the Installing Interior Window Ebook from HomeAdditionPlus.com. The Installing Interior Window Trim Ebook provides easy to understand, step-by-step instructions, on how to install interior window trim around a window. Pictures are included for every key step in the process.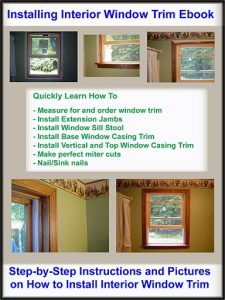 Related Information
---
Additional House Painting and Staining Resources from Amazon.com
---
Painting and Staining Price Quotes For FREE, No Obligation!
Fill out our 3-5 minute quick and easy form, and receive a free price quote on painting & staining from one of our pre-screened and licensed painting & staining contractors. This process is free and there is no obligation to continue once you receive your painting price estimate.