Add Style and Texture to Your Interior Walls with Faux Wall Finishes
By Mark J. Donovan







Instead of just painting your interior walls with a typical flat, satin or egg shell paint finish, why not consider a more luxurious look such as a faux wall finish. Faux wall finishes are increasingly becoming a popular trend in wall finishes. They add texture and style to interior walls similar to wallpaper or even tile, at a fraction of the price.

Unlike expensive wallpapers and ceramic tiles, faux wall finishes utilizes just paint. Consequently the material costs are much lower with faux wall finishes.
In addition, the average do it yourself homeowner can quickly and easily learn some of the most popular techniques for creating faux wall finishes.
Many faux wall finishes involve the process of layering paints, such as applying a translucent color over an opaque paint, to give that textured look.
Faux wall finishes are created using several painting application methods. The most common faux wall finish techniques involve the use of sponges, rags and stencils. Some of the more popular faux wall finish methods include sponge paint, rag rolling and color washing, however there are many other techniques that are employed today to create very colorful and textured interior wall finishes.
Listed below is a more comprehensive list of faux wall finishes:

Color washing

Sponge painting

Rag rolling

Crackle and Aging

Faux Metallic

Faux Clouds

Faux Stamping

Faux Stone

Faux Spattering

Faux Leathering
So before you decide to just paint your interior walls a flat color because wallpaper or ceramic tile costs are beyond your home remodeling budget, consider a faux wall finish. Faux wall finishes look beautiful, are inexpensive, and are relatively easy to learn how to do. In addition, the variety of faux finishes is limited only by one's own creativity.
---
See the Installing Interior Window Ebook from HomeAdditionPlus.com. The Installing Interior Window Trim Ebook provides easy to understand, step-by-step instructions, on how to install interior window trim around a window. Pictures are included for every key step in the process.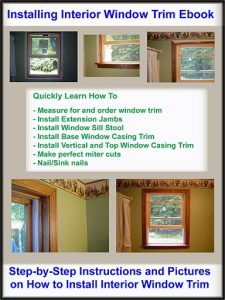 Related Information on Faux Painting Finishes
---
Additional House Painting and Staining Resources from Amazon.com
---
Painting and Staining Price Quotes For FREE, No Obligation!
Fill out our 3-5 minute quick and easy form, and receive a free price quote on painting & staining from one of our pre-screened and licensed painting & staining contractors. This process is free and there is no obligation to continue once you receive your painting price estimate.