Faux Painting Methods to Provide Texture and Old School Character to a Room
By Mark J. Donovan







Faux painting is used to inexpensively imitate other types of surfaces such as stone, marble, brick, and other common surfaces often seen in much older homes.

Most faux painting techniques take a little practice however they're great DIY projects as they are so forgiving. If you don't like the look you can simply paint over your work and start over. They can be a bit tedious, however, and with some methods you have to work in small sections and fast.
Faux painting techniques fall into two major categories, additive and subtractive. Additive fake painting techniques involve adding color to wall surfaces, whereas subtractive faux painting methods involve immediately removing paint or glazing after it has been applied.
Also, with subtractive faux painting techniques glazes are most often involved. Common faux painting methods include sponging, ragging, frottage, stippling, color washing, dry brushing, striping, and strié.
Sponging is one of the most common faux painting techniques. It is an additive faux painting method and as the name suggests it involves using a simple sponge, and more specifically a sea sponge. Unlike a manufactured sponge, a sea sponge has unique texture and patterns which give that randomness when creating your faux painted surface. Sponging is ideal for walls with imperfections as sponging adds wall texture and can easily hide wall blemishes. Sponging can use either paint or glazing to create either an additive or subtractive type painted surface.
If using a glaze keep in mind that there are two types, latex and oil based. Water based latex glaze is easier to work with and clean up. Oil based glazes however have longer working times. As a general rule, however, I recommend the use of water based glazes.

The ragging faux painting technique involves dabbing a rag over a freshly painted wall surface. 
Typically a darker tinted glazing is applied over a lighter base wall paint. Either bunch up or twist the rag into the wet glazing to remove some of the freshly applied wall glazing. Ragging is a subtractive faux painting method.
When ragging you should work in small sections at a time to make sure the glazing does not dry before you have a chance to work the rag on it.
Color washing also involves using either a rag or sponge, however it is an additive faux painting method.
After applying a tinted glazing over the base paint layer, immediately wipe the rag or sponge over it to create circular and/or swept wash marks on the wall surface.
Strié is a negative faux painting technique and is used to create an aged wall surface. A wall paper brush is vertically swept over freshly applied tinted glazing. The glazing is applied over a base painted wall surface and should be of a darker color than the base paint.

Frottage faux painting involves applying tinted glazing or paint and then quickly covering it with sheets of plastic, and then immediately removing the plastic sheets to create a marbled looking wall surface.





Striping, as the name suggests, involves adding striping to the wall surface. This faux painting technique can be a little tricky due to trying to keep straight striping lines. The use of a straight edge can help with this problem. Also, you can use masking tape and apply it to the wall. With masking tape, after applying the paint or glazing to the entire wall surface you can go back and remove the masking tape while the paint / glazing is still wet.
Finally, dry brush faux painting involves actually painting creative patterns over the base wall paint.
---
See the Installing Interior Window Ebook from HomeAdditionPlus.com. The Installing Interior Window Trim Ebook provides easy to understand, step-by-step instructions, on how to install interior window trim around a window. Pictures are included for every key step in the process.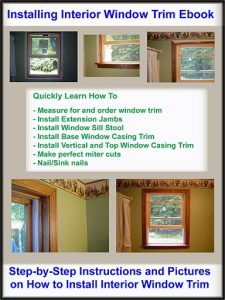 Related Information on Faux Painting Methods
---
Additional House Painting and Staining Resources from Amazon.com
---
Painting and Staining Price Quotes For FREE, No Obligation!
Fill out our 3-5 minute quick and easy form, and receive a free price quote on painting & staining from one of our pre-screened and licensed painting & staining contractors. This process is free and there is no obligation to continue once you receive your painting price estimate.