Ensuring a Clothes Dryer Exhaust Duct Screen is free of Lint Saves Time and Money
By Mark J. Donovan







In this video Mark Donovan of HomeAdditionPlus.com explains why cleaning out a clothes dryer duct screen regularly can save on home energy costs and shorten dryer cycle times.

Have you ever noticed that sometimes it takes much longer for your clothes dryer to dry your clothes?

If you have, this is a sure sign that you want to check your dryer vent. 
If it is clogged, then the clothes dryer will struggle to vent out the moist air from the dryer. Thus, causing more time for the clothes dryer to dry your clothes, and in the process, consumer more electricity or gas to dry the clothes.
In addition, a clogged dryer vent can also be a fire risk.
Often the main culprit in the clogged clothes dryer vent is the exhaust duct screen. So when you see it is taking longer to dry your clothes, check the exhaust duct screen first. As shown in the video, it only takes a minute to remove the build-up of lint form the exhaust duct screen.
After replacing the exhaust duct screen, you should notice a marked improvement in how fast your clothes dryer dries your clothes.

In addition, you should see a savings on your home energy bills associated with powering the dryer. If you don't see a significant improvement in drying time, then you may want to clean the entire exhaust ductwork.
Check out my other video on how to clean out a dryer exhaust vent.
So, if your clothes dryer is seeming to take a long time to dry your clothes check out the dryer exhaust duct screen. Moreover, plan in the future to check the dryer exhaust duct screen on a regular basis.
---
For information on how to maximize a wood stove's heating efficiency, see HomeAdditionPlus.com's Installation of Hood over Wood Stove eBook.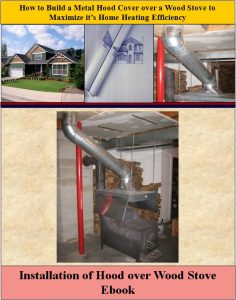 Related Information
---
Additional Heating and Cooling Resources from Amazon.com
---
Free Heating and Cooling Price Quotes with No Obligation!
Fill out our 3-5 minute quick and easy form, and receive a free price quote on heating & cooling from one of our pre-screened and licensed HVAC contractors. This process is free and there is no obligation to continue once you receive your heating & cooling price estimate.