Learn How to Quickly Clean out Your Dryer Vent to Maximize Your Dryer's Efficiency and Prevent a House Fire
By Mark J. Donovan







In this video Mark Donovan of HomeAdditionPlus.com shows how to clean out a dryer vent.

Each year countless house fires occur because people neglect to regularly clean out dryer vents. Its an unfortunate fact considering cleaning out a dryer vent is a fast and easy DIY project.

To be safe you should clean out your dryer vent and dryer vent tubing twice a year.
Cleaning your dryer vent regularly also helps to extend the life of your dryer, reduce your energy bills and speed up the time it takes to dry your clothes.
All you need to clean out a dryer vent are a couple of basic tools: a vacuum cleaner, a screw driver, a utility knife and possibly a caulking gun and some caulk.
To clean out a dryer vent start by disconnecting the dryer vent tubing from the back of the dryer, after you first unplug the dryer.

Then vacuum out the lint build up in the base of the dryer as well as in the dryer vent tubing.
After vacuuming the dryer vent and associated tubing reconnect it back up to the dryer and plug the dryer back in.
Next go outside your house and remove the dryer vent cover plate from the side of the home. Again use your vacuum cleaner to suck out the lint in the dryer vent ductwork and on the dryer vent cover.
Then reattach the dryer vent cover and caulk around it if necessary.
And that's all there is to it to cleaning out a dryer vent.
---
For information on how to maximize a wood stove's heating efficiency, see HomeAdditionPlus.com's Installation of Hood over Wood Stove eBook.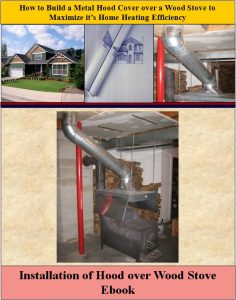 Related Information
---
Additional Heating and Cooling Resources from Amazon.com
---
Free Heating and Cooling Price Quotes with No Obligation!
Fill out our 3-5 minute quick and easy form, and receive a free price quote on heating & cooling from one of our pre-screened and licensed HVAC contractors. This process is free and there is no obligation to continue once you receive your heating & cooling price estimate.