How to Save on a Kitchen Remodeling Project
By Mark J. Donovan







Choosing to remodel a kitchen is most often a smart choice. Typically kitchen remodels have a high rate of return, as every homebuyer values a modern and beautiful kitchen.

However, kitchen remodels are very expensive. The typical kitchen remodeling project can cost anywhere from $5K to $100K, depending upon the size of the kitchen and the types of materials used in the project. For the average homeowner, however, expect to spend somewhere between $15K and $25K. 
All this said there are ways to save on a kitchen remodeling project.
Summarized below are eight tips for keeping your kitchen remodeling budget in check.
1) Consider refacing your kitchen cabinets instead of replacing them. Refacing kitchen cabinets can be as simple as repainting the cabinets and replacing the hardware.
If simply painting the cabinets is not dramatic enough for your kitchen remodeling plans, then you can reface the cabinets by installing new cabinet doors and drawers, as well as hardware, onto the cabinet frames.
2) Replace the old kitchen sink with a new one. And while you're at it, update the kitchen faucet. Installing a kitchen sink and faucet is a project most DIYers can tackle.

3) In regards to the countertops, consider a concrete countertop as an affordable and attractive alternative. If you have a tiled kitchen countertop, consider painting them with enamel paint. 
If on the other hand you are fixated on having granite kitchen countertops, granite tiles are an affordable alternative to large sheets of granite.
4) Switch out the old kitchen lighting fixtures with new ones. This way you can avoid hiring an electrician or at least keeping the amount of electrical work at a minimum if you do choose to hire an electrician. Visit your local home improvement center and pick up task lighting to mount over your kitchen countertops or underneath your kitchen cabinets. Also, install pendant light fixtures for improved work area lighting.
5) Add some fresh and affordable art decorations to your kitchen walls and surfaces. Pictures or objects placed strategically on the kitchen walls can add charm and pizzazz to an otherwise boring kitchen.

6) If you have hardwood floors in the kitchen that have seen their better days then consider refinishing them yourself.

Simply rent a sander for a couple of days to remove the old stain and to sand out the scratches, and then apply a coat or two of new stain over them.
You could also consider painting your wood floors. If you don't want to refinish your wood floors, or you don't have wood floors in your kitchen, then consider a low cost flooring product like laminate flooring.
Laminate flooring has a come a long way and is both durable and attractive looking. Lastly, you can consider peel and stick tiles for a low cost kitchen flooring alternative.
By implementing these six cost saving ideas into your kitchen remodeling project you can expect to save some money while still achieving a beautiful and functional new kitchen.
---
For help on your kitchen remodeling project, see my Kitchen Remodeling Bid Sheet. The Kitchen Remodeling Bid Sheet provides a request for quote checklist section that you can provide to prospective kitchen remodeling contractors. It also includes a comprehensive kitchen remodeling cost breakdown table, in Microsoft Excel format, that allows the contractor to include his projected remodeling costs for every phase of the project.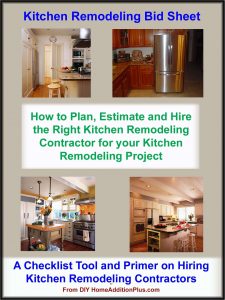 Related Information on Remodeling a Kitchen
---
Additional Kitchen Remodeling Design Resources
---
Get Free Kitchen Remodeling Price Quotes with No Obligation!
Fill out our 3-5 minute quick and easy form, and receive a free price quote on kitchen remodeling from one of our prescreened and licensed kitchen remodeling contractors. This process is free and there is no obligation to continue once you receive your kitchen renovation price estimate.