Kitchen Remodeling Ideas for a Limited Budget
By Mark J. Donovan







Remodeling your kitchen still offers the best return on in investment for home improvement projects by all accounts and reports. And this fact is not surprising as prospective home buyers value the kitchen more than any other room in the house.

However remodeling a kitchen is usually very pricey. Homeowners can spend many tens of thousands of dollars on remodeling a kitchen.

This said there are inexpensive kitchen remodeling ideas that you can implement to modernize your kitchen.
Paint Kitchen Walls
First, a can of paint only costs $20-30 dollars and covers an area of 300-400 square feet. Throw in a paint brush, roller, paint pan, masking tape and a little hard work, and for under a $100 and a day's worth of work, you can repaint an entire kitchen.
Reface Kitchen Cabinets
Second, instead of replacing your kitchen cabinets you can either refinish them or reface them with new cabinet doors. If your cabinets are made from solid wood you can strip them down and either re-stain or paint them.
All that is required is again a little cash for stripping solution, stain/paint, and sandpaper, along with some personal sweat equity.

Alternatively, for a little more money, you can have your kitchen cabinets refaced with new doors. Refacing kitchen cabinets leaves the boxes intact while updating the cabinet fronts, thus saving a small fortune compared to fully replacing the cabinets. In addition, refacing kitchen cabinets is less intrusive as demolition work is minimal.
Replace Kitchen Cabinet Hardware
As another alternative, you can replace all of the kitchen cabinetry hardware such as the knobs and handles. You can usually replace all of the old, pitted or discolored kitchen cabinet hardware for under $100.
Kitchen Countertop Replacement using Granite Tile 
Another inexpensive kitchen remodeling idea is to replace your old kitchen countertops. There are inexpensive Granite countertops and Corian countertop solutions that don't have to break your bank account. There are granite countertop solutions for under $50 per square foot if you look for discount sales and slightly thinner countertop thicknesses.
​
Kitchen Appliance Replacement

Replacing the kitchen appliances is another relatively inexpensive kitchen remodeling idea. Most prospective homebuyers want stainless steel appliances, so it may be worth the expense to update your appliances.

Even if you do not have plans to sell your home immediately you can still benefit financially by saving energy costs. New kitchen appliances have Energy Star ratings to help show you how much money you can save annually by converting to them.
Replace Kitchen Flooring
Updating your kitchen floor is another affordable kitchen remodeling idea, particularly if you are willing to do the work yourself. Ceramic tile kitchen floors are highly sought after by homebuyers, and installing ceramic floor tile is something most DIY type homeowners can do on their own.
Ceramic floor tile can be as inexpensive as just a couple of dollars per square foot. So for $200-300 and a couple of days of effort you can transform your kitchen floors into a modern day marvel.
So before you throw up your hands on embarking on a kitchen remodeling project consider these inexpensive kitchen remodeling ideas. They won't break the bank and they have a great return on investment. Not to mention, you, as well as prospective home buyers will enjoy your kitchen's new look.
---
For help on your kitchen remodeling project, see my Kitchen Remodeling Bid Sheet. The Kitchen Remodeling Bid Sheet provides a request for quote checklist section that you can provide to prospective kitchen remodeling contractors. It also includes a comprehensive kitchen remodeling cost breakdown table, in Microsoft Excel format, that allows the contractor to include his projected remodeling costs for every phase of the project.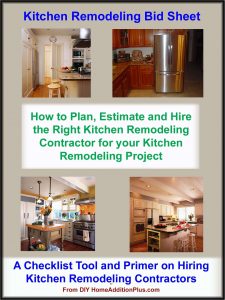 Related Information on Remodeling Kitchens
---
Additional Kitchen Remodeling Design Resources
---
Get Free Kitchen Remodeling Price Quotes with No Obligation!
Fill out our 3-5 minute quick and easy form, and receive a free price quote on kitchen remodeling from one of our prescreened and licensed kitchen remodeling contractors. This process is free and there is no obligation to continue once you receive your kitchen renovation price estimate.