Save yourself Time, Hassles and Lots of Money on your Home Remodel
By Mark J. Donovan







For over thirty years I have bought and sold homes, remodeled them, built additions onto them, and in one case built the entire home, albeit with the help of some sub-contractors.

Throughout my three decades of hiring general contractors and sub-contractors in the home construction space I learned a number of lessons along the way.
Summarized below are my top ten tips for improving your chances of having a successful home remodeling construction project. 
How do I measure success? The project gets done on budget and time, and you didn't pull your hair out dealing with the contractors.
1) Whats your Home Remodeling Budget?
Determine how much of a budget you have for the home remodeling project and decide whether or not you'll need financing.
2) Whats your Home Remodeling Schedule?
Pull out your calendar and come up with a date for wanting to complete the project. Be reasonable.
3) Write down your home construction goals
Make sure to include items such as: square footage, key features, location relative to the existing home if it's an addition.
4) Generate a set of detailed plans and blueprints that a contractor can build from.
Either hire an architect or invest in a good home design software package.
Besides including all dimensional information about the project, the plans should specify all of the building materials required, including down to the last cabinet doorknob.

5) Submit your plans to three or four general contractors.

If you are planning to act as your own general contractor then submit the appropriate portions of your plans out to the respective subcontractors, e.g. excavation/foundation contractors, framers, electricians, plumbers, etc.
6) Review each contractor bid carefully 
Make sure to compare each contractor bid with the other respective bids. Watch out for the contractor that provides minimal detail in his bid. The more itemized the bid quotation is, the more likely the contractor knows what he or she is doing.
Also, avoid the trap of contractor allowances. They are dangerous to you. It's a sneaky way for a contractor to low ball his quote so that you hire him or her.
Unfortunately, after you've signed the contract, you'll soon find out that the contractor allowance for lighting, flooring, or whatever, was insufficient for even the cheapest of contractor quality products.

7) Check the contractor quote for schedule information

The quotation bid should include completion milestone dates and payment milestone dates for work completed.
8) Do a thorough background check
For a prospective contractor do a thorough background check before you hire him or her. Call the state to make sure they are a licensed contractor in good standing. Then check with the Better Business Bureau. Next, call their insurance company to make sure they have paid up liability insurance.
The last thing you want is an uninsured contractor injured on your property. Lastly, check the contractor's references. Check four contractor references, two being more recent customers and two being 2 to 3 year old customers. You'll be amazed at the different responses you get by talking to newer versus older customers.
Bonus Item on the Top 10 Things to do before Hiring a Contractor
To help in obtaining accurate and consistent room addition contractor quotes, see my Room Addition Bid Sheet. The Room Addition Bid Sheet provides a request for quote section that you can provide to prospective building contractors.

It also includes a comprehensive room addition cost breakdown table, in Microsoft Excel format, that allows the contractor to include his projected room addition costs for every phase of the project.
The key to obtaining accurate room addition cost estimates is to have a complete set of room addition plans and specifications.
9) Do not pay too much money upfront upon signing the contract.
Remember the Golden Rule; whoever has the money rules. If you give the contractor too much up front, you may find yourself waiting weeks for him or her to show up at the jobsite. The same goes for milestone payments. You should pay only for work completed. Also, always make sure the final milestone payment is of significant size. It's your only leverage to ensure the project gets completed the way you want it to.
Also keep in mind that any contractor worth his salt has a line of credit with his building material supplier. Thus, realize he/she is not upfront footing the cost of obtaining the building materials.
10) Make sure you feel comfortable with the contractor.
Interview them, if you will, as part of the initial meeting with him/her and when they present you with the quotation bid. If you don't get a warm comfortable feeling, then find someone else. Remember, you'll be working with this person on a daily basis for many weeks, if not months.
Follow these top 10 things to do before hiring a contractor when hiring a home remodeling contractor and you will dramatically improve your chances of having a successful outcome.
---
For more help on building a home addition, see HomeAdditionPlus.com's Home Addition Bid Sheets. Our Home Addition Bid Sheets provide you with the knowledge and information on how to plan a home addition project, and what to look for when hiring contractors. They also include detailed cost breakdown tables and spreadsheets for estimating your own new home addition building costs.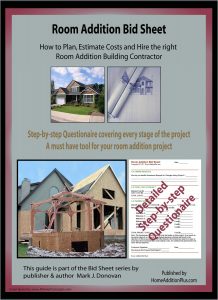 ---
Free Home Addition Price Quotes with No Obligation!
Fill out our 3-5 minute quick and easy form, and receive a free price quote on a house addition from one of our prescreened and licensed home addition contractors. This process is free and there is no obligation to continue once you receive your house addition price estimate.