Home Remodeling Contractor Hiring Guides that will Prevent Pain, Frustration and Financial Loss to You
By Mark J. Donovan







My

home remodeling bid sheets

, or contractor hiring guides, can ensure you hire the right home remodeling contractor for your major home improvement venture.

The contractor hiring process is the key element for ensuring a successful home remodeling or construction project. Make the mistake of hiring the wrong contractor and you could find yourself involved in a money pit project with no good outcome in sight.

One trait that almost all contractors don't lack is confidence. 
Almost every contractor I've ever met or hired could spin a yarn for hours on why they know they are the best of the best in their particular trade.
As a matter of fact, they typically spout off as if they know just about everything there is to know about anything. Admittedly many other people do the same thing, but contractors just seem to have an extra propensity for bravado and self-assurance that is matched by few others. Maybe there is something unique in their chromosomes.
Unfortunately for many naïve homeowners they get sucked into the contractor's self-hype and learn too late that the contractor they hired was far from the God-like figure that he/she claimed to be during the hiring process.
Through personal pain, frustration, and financial loss I learned long ago that hiring the right contractor was paramount to achieving a successful outcome on a home remodeling or construction project.

By making the mistake of hiring the wrong contractor you inevitably set yourself up for a bad experience. Common problems that arise when hiring the wrong contractor include being gouged on large upfront deposits that lock you into a nightmare, delayed project starts and schedule slips, erratic contractor work schedules, cost overruns, and poor quality work.
On top of that, there is the emotional pain and frustration that goes along with it, as you're forced to suffer through the project because you signed a contract and gave a large deposit upfront for work promised to be done.
Much of these types of issues can be prevented, or at least significantly mitigated, if you do your homework when hiring a contractor. That means reaching out and interviewing multiple contractors for the project, and doing background and reference checks on each prospective contractor.

Background checks can be performed by calling the state and Better Business Bureau, and/or using various online business review websites. 
Reference checks should involve contacting several references on each prospective contractor's reference list.
If they don't have a list, don't bother spending any more time with that contractor. Also, make sure you have a set of questions to ask prior to calling each reference. Questions should include such things as the contractors work habits, quality of work, ease with communicating and working with the contractor, etc.
My

contractor hiring guides

, or bid sheets, provide a multi-page detailed questionnaire that can help provide you with the questions to specifically ask the prospective contractors.

In fact each contractor hiring guide has a unique set of questions for the particular type of project your undertaking. The questionnaires vary in length, from just a few pages to 10 or more pages, depending upon the type of home construction project. 
Each questionnaire is also designed to present to the contractor in its entirety to have he/she fill out and complete.
In addition, it includes sections for listing out subcontractor names and breaking out initial deposits and subsequent payment milestones.
So if you're planning a major home remodeling project take a look at my contractor hiring guides, or bid sheets. The small price I charge for them will save you a fortune in money, schedule slips, and headaches down the road by preventing you from hiring the wrong home remodeling contractor.
For more help on either hiring a general contractor or acting as your own general contractor see my home addition and home remodeling bid sheets. They can save you a fortune by helping you to properly plan your home construction project and hire the right general contractor and/or subcontractors.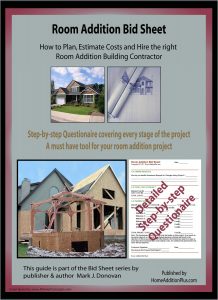 ---
Free Home Addition Price Quotes with No Obligation!
Fill out our 3-5 minute quick and easy form, and receive a free price quote on a house addition from one of our prescreened and licensed home addition contractors. This process is free and there is no obligation to continue once you receive your house addition price estimate.