Passive Home Construction is all about minimizing a Home's Ecological Footprint
By Mark J. Donovan







The concept of passive home construction has been around for awhile, however it has increased in popularity in recent years with the growing interest in building energy efficient green homes.

For those of you unfamiliar with passive home construction and are interested in the topic please read on.

Whereas Net Zero home construction is about offsetting a home's energy requirements with solar panels and other energy renewal solutions, passive home construction focuses on reducing a home's energy and ecological footprint. How is that accomplished?
By constructing a home that is air tight, but that also ensures good air quality is circulated throughout the home.

By constructing the home with super-insulated walls, ceilings, attics and basement space to keep warmth in the home during the winter months and cool air inside the home during the summer months.

By using high thermal mass elements to act as reservoirs for storing heat and energy in the home when outside temperatures drop.

By strategically locating windows and window shading to help regulate a home's interior living space.

By strategically positioning the home on the building lot to maximize sunlight into the active living spaces of the home during the various parts of the day.

By overall minimizing the home's dependency on traditional HVAC systems.

By constructing the home so that it is primarily heated by passive solar gain.
Detailed construction practices for passive home construction include the use of multilayer mud sills, a super insulated slab, double stud wall framing and spray foam insulation, and high insulation R-value doors and windows.

Standard home building material can be used to construct a passive home. However, you need more of it and higher quality products, e.g. doors and windows, which all adds up in terms of cost.
In regards to the best type of house plan for building a passive home, in general the simple cube shaped house footprint is the most conducive for passive home construction.
For certification purposes, after a passive home has been buttoned up multiple blower door tests are done to ensure that the home is effectively air tight.
Passive home certification is based on three major components:
Air infiltration (= 0.6 ACH)

BTU Consumption (= 4,755 BTU per square foot annually)

Kilowatt hour usage (= 11.1 KWH per square foot)
To conclude, passive home construction is all about energy conversation so that the home's energy and ecological footprint is minimized as much as possible.

Ultimately it is about capturing as much of the cheapest energy possible (solar) and holding onto it as long as possible to heat the home.

Make no mistake. There is a huge dollar investment required to construct a certified passive home.
As such, there are only about 75 homes in the USA that are actually certified as a passive constructed home at the time of this writing.
But this said, even if you elect not to build a certifiable passive home, there are certainly a lot of things that can be learned by studying more about passive home construction to ensure you build your own highly energy efficient home.
---
For more help on building a home addition, see HomeAdditionPlus.com's Home Addition Bid Sheets. Our Home Addition Bid Sheets provide you with the knowledge and information on how to plan a home building project, and what to look for when hiring contractors. They also include detailed cost breakdown tables and spreadsheets for estimating your own new home construction building costs.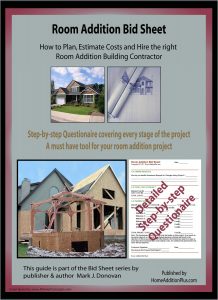 ---
Free Home Addition Price Quotes with No Obligation!
Fill out our 3-5 minute quick and easy form, and receive a free price quote on a home addition from one of our prescreened and licensed home addition contractors. This process is free and there is no obligation to continue once you receive your home addition price estimate.